Your production lines are the lifeblood of your business. You can not afford to let them shut down unexpectedly and hemorrhage your resources! At the very core of your production is an often overlooked component……Your Thermal Management Equipment. If your production line is your lifeblood, then your thermal management equipment is its heartbeat….for without it, your products will fail to flow from your facility.
Today's competitive marketplace has caused many companies to make drastic cutbacks. Often the first to go is the ability to service and maintain all of your production equipment, let alone the thermal management equipment.
Reactive Maintenance leads to recurring operational issues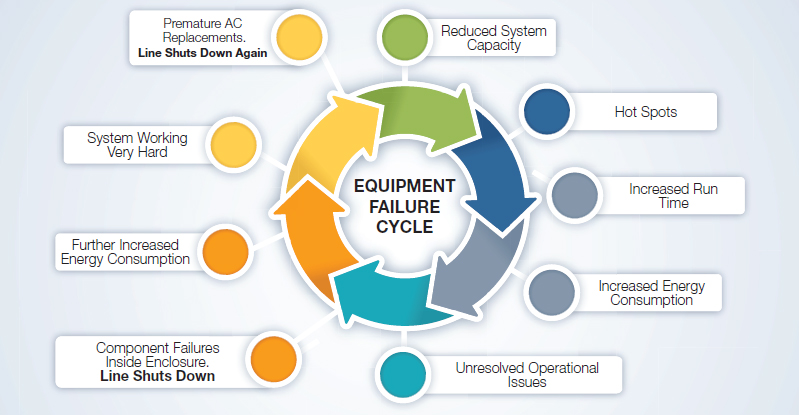 Pfannenberg offers customized solutions to meet your facilities specialized needs!
We are experts in the manufacturing and servicing of your Thermal Management Equipment. Allowing us to service your equipment will free up your resources to take care of your lifeblood and keep your profits rolling in.
Preventative Maintenance is easy to do and only requires a few steps, see below:
Our Proactive Scheduled Maintenance Programs Offer:
Scheduled Maintenance – Maintenance is performed on time, every time to give you the full life expectancy of your thermal management equipment.
Predictive Maintenance – This allows us to make needed repairs before they cause a shutdown when it fits into your production schedule.
Guaranteed Response Time – In case of an emergency, you know when we will be on site.
Guaranteed Parts Availability – We guarantee you will always have parts for your equipment.
Repair And Replacement – You know what your budget is going to be, no unexpected expenses. Components that are starting to fail will be replaced before they do fail and shut down your line. We change them when it is convenient.
On-site repairs, Consulting and Replacement
When it comes to managing energy and operational costs, factories and organizations have never been more challenged than they are today. Because the cost of energy is likely to continue to rise, even improvements small and large, inefficiencies can add up to significant budgetary savings over time.
That's why Pfannenberg Services provides a wide range of offerings that enable you to enjoy the highest levels of performance from the systems in your factory or facility. Weather you're installing new equipment, maintaining an existing system or completely upgrading your infrastructure, Pfannenberg on-site Services and consulting can provide exactly the expertise you need. We will customize programs to meet your budgetary demands.
Services available to keep your equipment running efficiently are the following:
Oil Analysis
Fluid Analysis
Refrigerant leak testing
Refrigerant Analysis
Rebuilding Programs
Energy savings
Infra-red imaging to detect thermal defects
Cabinet cleaning and sealing
Sound testing and analysis
Electrical Panel Services and repair
Piping Services
Energy solutions
Chiller installation
Custom on-site training
Startup Benefits include:
Startup- following prescribed engineering checklist to ensure all equipment functions meet operational parameters in a reliable and efficient manner.
Operation- from startup ensures new Pfannenberg products will operate within designed parameters.
Performance- assures customers new Pfannenberg products will operate at peak reliability and efficiency during first year of service.
If you are making the investment in new equipment, the best thing you can do is protect your investment with startup and HVAC services from Pfannenberg.
In order for your employees to develop a better understanding of air conditioning technology, we also offer training courses. This allows your employees to recognize problems faster and to make the correct decisions for the repair and resumption of production with greater reliability. The result is more economical and trouble-free operation of the systems. These training courses can be held at Pfannenberg, or at your location.
Pfannenberg offers customer specific training for system integrators, OEMS and End Users:
> Class Room Based
> Online Learning
> On-site Training
> Custom Designed Training Program
The standard contents of a training course:
General information on refrigeration technology (circuit, components, functional sequences)
The unit – relating to the customer's application
Commissioning of a refrigeration unit
Fault simulation, fault recognition
Remedial actions for faults during commissioning
How to make contact in the event of a fault
Information about the work processes and the flow of documentation in the event of a fault