Many facilities we visit have energy savings initiatives.
Are your thermal management products sized properly? Can you use existing sources such as tower water or chilled water to cool your electrical enclosures? Will adding a thermostat to your Filterfans® reduce energy costs by only running the fans when needed? 
Our team will analyze your current energy usage related to thermal management systems. After our analysis, we will submit a proposal recommending equipment upgrades and repairs to give you the maximum energy reduction.
Once the updates have been completed, we will work with your local energy provider to document and submit the required paperwork for any qualified energy rebates, which can offset the costs of the project.
Contract Pfannenberg to use our thermo-graphic equipment to see into your electrical enclosures and surrounding areas to get a true snapshot of the climate. Two ways we can approach this is to calculate the dissipation of heat based on the components within the enclosure or through the calculation of heat dissipation based on recorded temperature.
Component Based Heat Calculations: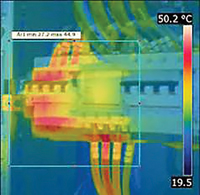 A thermal camera would be used to capture hot-spots based on enclosure components. The imaging would clearly show the hottest areas in red and the coolest areas in blue. Using this imagery allows us to provide a clear explanation and analysis of hot heat is being generated and where it is having the greatest impact.
Recorded Temperature Heat Calculations: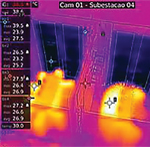 Using a special thermal camera we are able to accurately measure the recorded temperature inside and outside the enclosure. This analysis can be recorded as a single one-time snapshot or over the course of several hours to get an accurate representation of the fluctuations in temperature based on time of day or manufacturing processes.
Installation and Commissioning Services
Pfannenberg offers worldwide professional installation services, commissioning and start-up services to ensure that new systems get off to a good start avoiding improper installation and/or set-up issues that can cause machine failure or loss of production, especially for chilled water systems. We offer professional commissioning of your cooling systems anywhere in the world.
Commissioning includes:
Verifying the design & installation of secondary coolant loop piping (in the case of water chillers)
Verifying electrical service and connection
Verifying proper installation and connection of the chiller to the piping system
Filling the secondary circuit with coolant
Initial start-up of the system
Measurement and documentation of all technical data
Acceptance and release to the user
Preparation of an acceptance protocol
Our Service Technicians provide support for:
The conversion, expansion or relocation of your existing cooling solution
Professional installation and validation of application
Commissioning of new devices in your manufacturing facilities
On-site training for customer's maintenance staff
THE PFANNENBERG ADVANTAGE™ follows a results-driven, four-step process that begins and ends with the user
It's a value proposition which provides solutions to problems encountered by the automation user (plant) that are associated with thermal management products.
It allows Pfannenberg to take the experience gained in supplying these products to the machine builder and extend it to the point of use where it can be applied to meet specific challenges, or to take advantage of specific opportunities.
Visit our Pfannenberg Advantage page for more information!