ONE FITS ALL – THE PYRA® LED-S SERIES
No matter which status you want to display on your machine, in your plant or in a certain area – the PYRA® series offers you a wide range of possibilites
Most flexible and ultra bright LED technology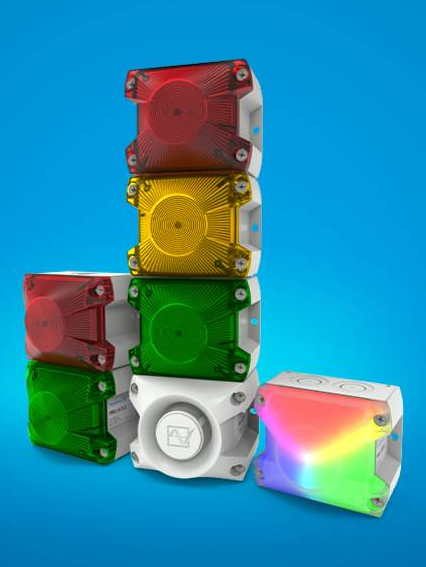 The new PYRA® LED series is used wherever warnings and information of machines and equipment, rooms or areas need to be displayed.
Besides an ultra bright LED technology, the new PYRA® LED has a great number of further advantages. So it is not only the signaling mode which is selectable, but also the blinking and flashing frequency that makes the light adaptable to all your applications. The multi-voltage-power supply allows connection to almost any voltage and guarantees numerous possible applications.
The new PYRA® LED is available as single light, as traffic light or in combination with a sounder.
A particular highlight of the series is PYRA® LED RGB. The specific feature about this light is that you can always choose exactly the colour you need from a wide range of RGB colors. This permits you to stay flexible and keep your stock to a minimum.
Another advantage is the external colour and mode control. It allows the user to select the signaling mode and the colour via remote control and display different situations with just one light.
You are not sure wether you need LED or XENON lights?
READ MORE about which signaling technology best fits what application.
Invisibly Visible
Fully integrable into the design of your machine and plant
We at Pfannenberg know that machine and plant design is becoming more and more important for many companies. In addition to being equipped with the latest technologies, the importance of a modern design of a machine is significantly increasing.
When developing the PYRA® LED, we designed it in a way that it can be easily integrated into the design of your machine or plant.
Flat, smart, discreet and clean, but always present when needed!
MAKE THE PYRA® LED FIT YOUR NEEDS!
SINGLE LED LIGHTS
It is up to you – make your choice!
The single lights allow you to select your signaling and frequency modes and additionally benefit from the multi-voltage-power supply that adapts to your applications.
LED RGB LIGHTS
Select the color you need!
The RGB lights allow you to choose the colour you require from a wide range of RGB colours. Colour and signaling mode can easily be changed.
LED TRAFFIC LIGHTS
Combine your traffic light with or without a sounder!
The LED traffic lights are available as a pre-assembled version or as single light modules plus a PATROL sounder module that can be composed by yourself.
LED SOUNDER/LIGHT COMBINATION
Combine a single LED light and a  PATROL LED sounder!
Pre-assembled compact multifunctional single/RGB light combined with the specially designed LED sounder PA L 1.