Product Categories
PA L 1
Multifunction Sounder/Light Combination
Max. 105 dB(A) / 76 cd
Our PA L 1 (UL Type 4/4x, IP 66) is a compact multi-function sounder/light combination with most flexible, ultra-bright LED technology. Select your signaling mode (Steady-On/Blinking/Flashing), light frequency (Blink/Flash per Minute) and color with this flexible PYRA LED Light / PA 1 Sounder combination.
Available in…
Base Color: Available in Red and Grey
Lens Color: Available in Clear, Yellow, Amber, Red, Green, Blue, or Color Changing LED(RGB)
Std. Voltage Ranges: Available in 10-57VDC, 115VAC, or 230VAC
Watch The Video!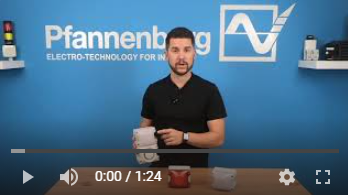 Features
Selectable signaling modes
No matter which signaling mode is required – you are able to choose the one that fits to your needs.
Selectable blink & flash frequencies
Adaptable to all your applications – select the frequency your gadget requires and boost the perceptibility.
Selectable Color (RGB version only)
Not sure about the colour yet? One light for all your needs! PYRA® LED RGB let you choose the color you need. Stay flexible and keep your stock to a minimum!
Safe and easy to install
Various beneficial attributes as e.g. locking elements outside of the sealing or anti-twist protection of the housing parts make an incorrect installation virtually impossible.
Rapid Mounting
PA L 1 has several advantageous characteristics like e.g. captive and in its position fixed locking elements. Therefore it is more than simple to mount and keep the assembly time to a minimum.
Budget Friendly
Due to an extremely high efficiency and good penetration of acoustical obstacles you can significantly reduce the number of devices.
Technical Data Overview
PYRA SERIES LED SOUNDER/LIGHT COMBINATION
115 VAC
12-48 V DC
PART NUMBER GREY HOUSING RGB (RAL 7035)
23313158055
23313638055
PART NUMBER RED HOUSING RED LENS
23313155000
23313635000
PART NUMBER GREY HOUSING YELLOW LENS
23313153055
23313633055
PART NUMBER GREY HOUSING AMBER LENS
23313154055
23313634055
PART NUMBER GREY HOUSING RED LENS
23313155055
23313635055
CURRENT CONSUMPTION LIGHT (max)
51 mA @ 115 V AC
120 mA @ 24 V DC
CURRENT CONSUMPTION SOUNDER (max)
30 mA @ 115 V AC
70 mA @ 24 V DC
MAX SOUND LEVEL
105 dB (A) @ 1m
VOLUME CONTROL
max. -12 dB
TONES
80
LIGHT SOURCE
one high output LED per single unit
LIGHT INTENSITY (DIN 5037)
76 cd (reducible) per single unit
MAX VIEWING DISTANCE
202 m
OPERATING TEMPERATURE
- 40 ... +55 °C
STORAE TEMPERATURE
- 40 ... +70 °C
DEGREE OF PROTECTION
IP 66 (EN 60529), NEMA TYPE 4/4x, IK 08 (EN 50102)
SERVICE LIFE OF LIGHT SOURCE
> 50,000 hours
CABLE ENTRY
6x M20 pre-embossed
CONNECTING TERMINAL
0.14 - 2.5 mm² fine stranded
WEIGHT
Max. 670 g
SKU:

23313158055, 23313638055, 23313155000, 23313635000, 23313153055, 23313633055, 23313154055, 23313634055, 23313155055, 23313635055
Category: multifunctional led lights
Subject to technical amendments and misprints.