Option 1 – Fully assembled traffic lights
Choose a fully assembled traffic light. All you have to do is to select the combination you require. You can choose between traffic lights with two or three different colours (no sounder).
If you need a more flexible solution and you would like to assemble it individually due to your needs, so please have a look at Option 2 below.
Option 2 – Build your own traffic light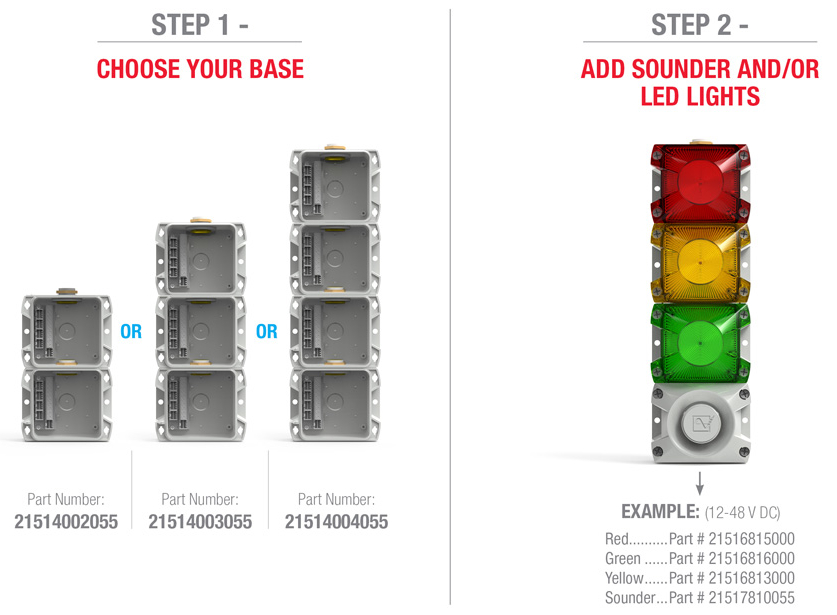 Additional voltages, lens and base colors available. Please click here to contact us for additional options.
Features
Selectable signaling modes
No matter which signaling mode is required – you are able to choose the one that fits to your needs.
Selectable blink & flash frequencies
Adaptable to all your applications – select the frequency your gadget requires and boost the perceptibility.
Selectable Color
Base Color: Available in Grey – Lens Color: Available in Yellow, Red and Green
Safe and easy to install
Various beneficial attributes as e.g. locking elements outside of the sealing or anti-twist protection of the housing parts make an incorrect installation virtually impossible.
Rapid Mounting
Several advantageous characteristics like e.g. captive and in its position fixed locking elements. Therefore it is more than simple to mount and keep the assembly time to a minimum.
Budget Friendly
Due to extremely high efficiency LED Lights and good penetration of acoustical obstacles you can significantly reduce the number of devices.
Technical Data Overview
PYRA® COMPACT LED TRAFFIC LIGHTS
115/230 VAC
120 DC
12-48 V DC
OPTION 1 - PY-L-S-TL: Fully assembled traffic lights with gray bases
PART NUMBER RED - GREEN LENSES
21514642055
-
21514812055
PART NUMBER RED - YELLOW - GREEN LENSES
21514643055
-
21514813055
OPTION 2 - PY-L-S-TLA: Individually composed traffic lights with or without sounder
STEP 1: Please choose the base element with the required number of stages

PART NUMBER 2-STAGES BASE PART

21514002055
PART NUMBER 3-STAGES BASE PART

21514003055
PART NUMBER 4-STAGES BASE PART

21514004055
STEP 2: Select the light and/or sounder inserts (choose all with the same power supply)
PART NUMBER YELLOW LIGHT INSERT

21516643000
21516813000
PART NUMBER RED LIGHT INSERT

21516645000
21516815000
PART NUMBER GREEN LIGHT INSERT

21516646000
21516816000
PART NUMBER SOUNDER INSERT

21517150055 (115 V) 21517100055 (230V)
-
21517810055
MAX SOUND LEVEL
Option 2: 105 dB (A) @ 1m
VOLUME CONTROL
Option 2: max. -12 dB
TONES
Option 2: 80
LIGHT SOURCE
one high output LED per single unit
LIGHT INTENSITY (DIN 5037)
76 cd (reducible) per single unit
MAX VIEWING DISTANCE
202 m
OPERATING TEMPERATURE
- 40 ... +55 °C
STORAE TEMPERATURE
- 40 ... +70 °C
DEGREE OF PROTECTION
IP 66 (EN 60529), NEMA TYPE 4/4x, IK 08 (EN 50102)
SERVICE LIFE OF LIGHT SOURCE
> 50,000 hours
CABLE ENTRY
4-stage: 8x M20 pre-embossed
2 and 3-stage: 6x M20 pre-embossed
CONNECTING TERMINAL
0.14 - 2.5 mm² fine stranded
WEIGHT PER STAGE
Weight per stage 265 g per light / max. 405 g sounder
Datasheets & Downloads
| | |
| --- | --- |
| MANUAL | |
| DATA SHEET | |
| MODEL 2 LIGHTS NO SOUNDER | |
| MODEL 3 LIGHTS NO SOUNDER | |
| MODEL 2 LIGHTS 1 SOUNDER | |
| MODEL 3 LIGHTS 1 SOUNDER | |