Product Categories
DTS 3681C
SIDE MOUNT COOLING UNITS
13709-25930 Btu/h
Our DTS 3681C (NEMA Type 4/4x) new improved version of our former DTS 3681 indoor cooling units, have the highest Cooling Capasity Per Density (CCPD) available on the market. Housing: galvanized sheet steel. These units are ideal for high heat loads, especially high horsepower drive enclosures. Housing: sheet steel Cover: stainless steel 304
Product Overview:
Highest cooling capacity in the smallest footprint possible
Easy Wiring: Hinged Panel access
No more phasing (460v)
Robust and Service Friendly : HP & LP switch to protect the compressor /Easy access to components
Highly visible Fault indicator on the front of the unit
*Please note that this model requires a different cutout from the previous 36X1 models
Features
Closed Loop Design
Designed to isolate the external ambient air from the internally conditioned air eliminating the risk of contaminants entering the cabinet.
Service Friendly Electric Panel
Flip down hinged design to allow easy asses to electrical controls. Plug-n-play power connection for easy wiring (Female connector provided).
Hermetically Sealed Reciprocating Compressor
The absence of any refrigerant fill valves eliminates leak paths. Recharging is never needed. Reciprocating Compressor eliminate phase mis-wiring.
Active Condensate Management
Condensation is a natural byproduct of refrigeration. The heated condensate collection pan boils this off thereby eliminating the need for drain tubes and buckets. To conserve power, this heater only activates when necessary.
High Airflow Backward Curve Impeller Fan
Provides high airflow preventing hotspot especially in populated or multiple bay enclosures. Best in Class fan providing long service life.
Rugged Design for All Environment
Powder coated or stainless-steel cover designed for harsh manufacturing environments. Additional rainhood cover for  DTS 3461C Outdoor (Type 3R/4) and DTS 3461C Washdown (Type 4/4X) designs.
Efficient and Extended Life Design
Zinc coated micro-channel design provides up to 40% increased in heat rejection boosting the overall cooling performance. The coating provides additional protection towards corrosive environment prolonging the service life.
Pressure and Thermal Overload Protection
High pressure cutout and thermal switches ensures safety by shutting off the compressor and fans in unforeseen event of excessive pressure or heat to protect unit from costly repair
Highly Visible Status Light
Provides easy visual indication on the running status of the cooling unit. Alerting maintenance team of any error when happened.
Technical Data Overview
DTS 3681C
230 V
400/460 V
PART NUMBER
13384039158
13384036158
FREQUENCY (Hz)
60
50/60
POWER CONSUMPTION (W)
3678
1769
NOMINAL (RUN) CURRENT* (@35A/35A)
16.06
5.18
FUSE (max.)** CLASS CC
30
10
NOISE LEVEL*** dB(A)
81
WEIGHT lb (kg)(without packaging)
234.8 (106.5)
DIMENSIONS in
57.2 x 15.8 x 16.1
*For the MCA (Maximum Current Ampacity) value per UL, please consult product technical datasheets available above.
**Suitable for Transformer Inrush Protection
***(According to EN ISO 3741)

Performance Curve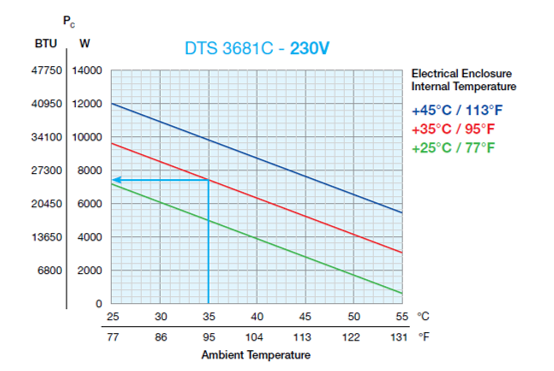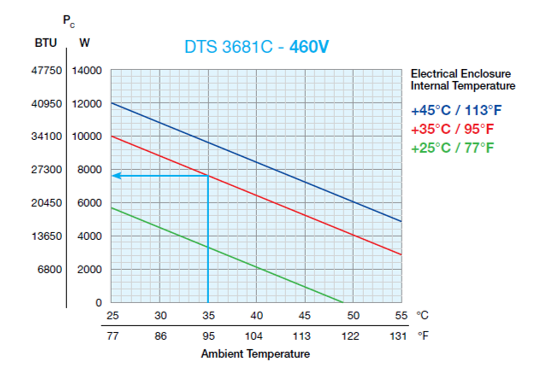 Additional Data
AMBIENT TEMPERATURE RANGE
+ 25°F … + 131°F / + 4°C… + 55°C
CONTROL RANGE (adjustable)
SC
+ 77°F … + 113°F / + 25°C … + 45°C; factory setting + 95°F / + 35°C
REFRIGERANT
type
R134a
quantity
450g
CONDENSATE MANAGEMENT
Integrated condensate management system with condensate drain
PROTECTION SYSTEM ACCORDING TO NEMA TYPE
NEMA Type 4/4x(against enclosure when properly installed)
NEMA 1 towards the surroundings when properly installed
SKU:

13384039158, 13384036158
Category: DTS 36X1C