Pfannenberg's Signaling Solutions Catalog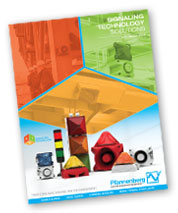 Pfannenberg introduces its 2019 North American Signaling Catalog were you can find our complete line of audible and visual signals for industrial applications. This new catalog has been redesigned and updated to assist with product selection as well as highlighting the many industries in which our extensive experience has been utilized.
With our innovative "3D coverage" approach and our legacy 10 Year Warranty, Pfannenberg is here to ensure the success of your next safety requirements.