Signaling Notifications and Alarms
For Areas where Employee and Public Safety is Critical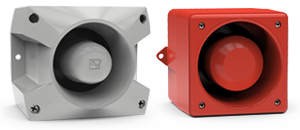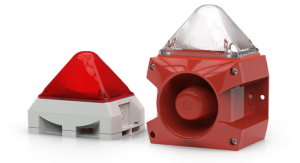 Our signaling solutions for airports are always on the mark and are used everywhere where safety and a smooth traffic flow are paramount. On towers, buildings and cranes, LED obstacle lights alert the air traffic, in particular airplanes landing and taking off. In the "Baggage Claim" area, continuous lights and flashing lights alert about the start and operation of the conveyor belts. Throughout the airport, signaling devices alert visitors and staff visually and audibly in the event of a fire.
Pfannenberg also provides the "traffic light" for fever detection in airports using the G2K platform for access control in the fight against Covid-19. The platform uses thermal camera-based body temperature measurements and algorithm-based analysis of video streams. If a camera or a sensor detects someone conspicuousness when an area is entered, such as fever symptoms or the lack a facial mask, the PYRA® LED RGB S multicolor light functions like a traffic light: a red signal indicates that access is denied, whereas a green signal indicates that no abnormalities have been detected and access is granted.
The advantages of an RGB light are obvious: several colors can be displayed by just one device. In addition, the PYRA® LED RGB S not only offers various installation options, but can also be installed quickly and flexibly thanks to cable entries on all sides according to the Plug & Play system. A high IP protection as well as the vandalism safety of the device allow its use in almost every application, but especially in the field of access control.
The essential advantage of the Pfannenberg signal transmitter is the possibility of direct control via the alarm output of the camera, this considerably reduces the number of system components and leads to a cost-efficient solution. Users can choose between different signaling modes and high performance and visibility, even in daylight, is always guaranteed thanks to the ultra-bright LED technology.
Why do airports and OEMS serving airports worldwide select Pfannenberg's signaling devices? One reason is that our robust flashing sounders offer more than eighty tones, which not only provide widespread coverage through each alarm, but significantly reduces the number of devices needed. And our signaling devices ensure a maximum signaling range, which significantly reduces the number of converters needed. The result is an application that not only ensures safety but is economical as well.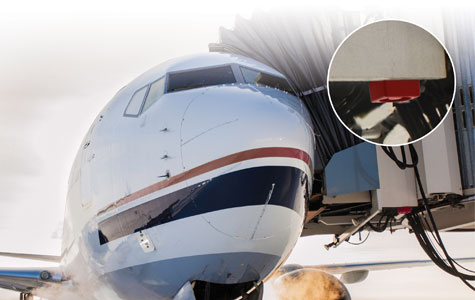 Ideal for transportation environments where:
Alarming, indication, or warning required
Ruggedized, robustness needed
Flammable materials present
High ambient noise
Strong jets of water at cleaning stations
Sample Applications:
Thermal Imaging control: PYRA LED RGB
Airport Tower: LED Obstruction Lights
Baggage Conveyor Belts: Flashing lights and sounders
Access and escalators: Flashing Lights
Hangars, gangways, and loading ramps: Warning Flashing Lights
Rolling gates: Motion Detectors and Flashing Lights
Alerting in Dangerous Situations: Sounders and Flashers
Escape door alarms
DTS Cooling Units
For Harsh Environments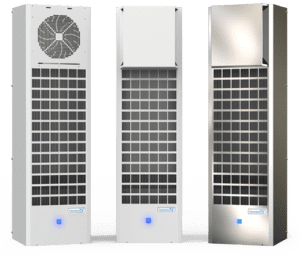 DTS Cooling Units offer an ideal cooling solution for spindle motors and automation drives in controllers used in transportation systems, and provide superior performance in harsh environments with high temperatures. Because of our superior engineering for special environments, our cooling units were selected for use in the 176 cross passages found throughout the longest tunnel in the world – the Gotthard Tunnel in Germany.
Offered in NEMA Type 12/3R/4/4X 304 stainless steel, the DTS Cooling Unit utilizes an internal heater which eliminates the need for a drain line, and is coated with special polish to repel contaminants, will seal out the ambient air, and cool and re-circulate clean, cool air. Energy consumption, a critical factor in infrastructure, is significantly improved with the addition of a DTS Cooling Unit, which can nearly halve energy consumption for the cooling of your electronic equipment.
We can customize our DTS Cooling Units for special applications, such as we did for electrical enclosures in the Gotthard Tunnel. One of the greatest technical challenges was to develop a product that would meet an IP65 rating when experiencing the high alternating pressure loads from the passing trains. In addition to the extreme alternating pressure loads, our cooling units also had to perform in conditions with extreme temperature differences and constant exposure to dust and moisture. Our customized solution was engineered with a specially developed pressure body with an integrated circuit and utilizes a new generation of controllers with Ethernet transmission protocol for central tunnel control.
In Singapore, which is marching towards being a SMART Nation, we are proud to be thermal managing the Electronic Road Management System, one of the key initiatives to connect the country. Effective cooling of sensitive equipment in cabinets located in hot and humid, outdoor transmission stations island-wide, is a constant challenge. Here, the DTS-3000 series is particularly suited to this application, with its high IP56 protection system and low maintenance.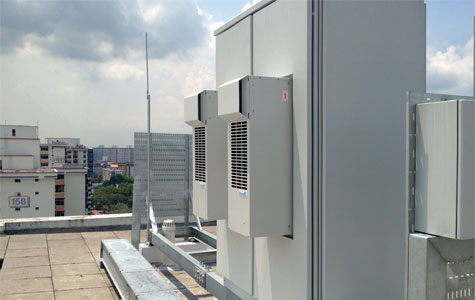 Ideal for transportation environments where:
Hot and Clean or Hot and Dirty conditions (80° to 140 °F)
NEMA Type 12/3R/4/4X
Outdoors or heavy spray
Anywhere that condensate is an issue
Sample Applications:
Tunnel cross passages
Tunnel drills
Spindle motors and automation drives
Power converter cabinets
Drive trains
Control equipment
Electronic road management systems
Related articles:
Heaters, Thermostats, Hygrostats
For heat, humidity and Condensation Management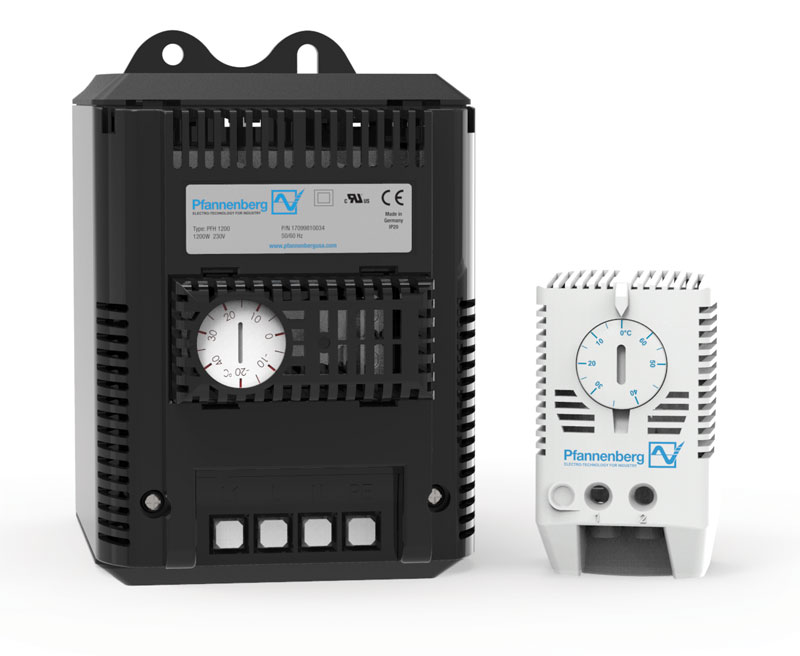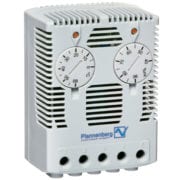 Hygrostats switch on electrical enclosure heaters or Filterfans® when a preset relative humidity is exceeded. The relative humidity is kept above the dew point and the condensation of water on electrical components and the corrosion of unprotected sheet metal is prevented.
A great example of the use of a heater for enclosure climate control is one Pfannenberg designed for the Gotthard Tunnel. In addition to the cooling units, which are predominantly used inside mountains (ambient temperatures up to +40 °C), Pfannenberg heaters are installed in the portal sector (ambient temperatures to -20 °C). These heaters ensure that the temperature inside electrical enclosures do not fall below the so-called dew-point.
To regulate the heater, we created a special thermostat to guarantee a high level of system uptime and prevent unplanned failures and downtime. In addition to being used directly inside the cooling units, the climate controller is integrated into 500 other electrical enclosures without a cooling unit. This makes a temperature monitoring system possible, which, like the climate control units, can communicate with the tunnel control system and, if necessary, can be replaced, without having to reinstall the data transfer.
See the sidebar to read more about this unique solution to a difficult challenge.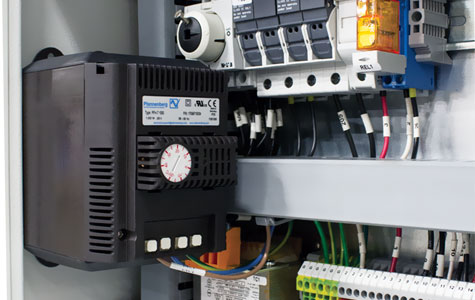 Ideal for transportation environments where:
Complement to a Filterfan® or Cooling Unit
Climate control is needed
Thermostat to regulate temperature
Outdoor applications
Sample applications:
Temperature monitoring system
Parking ticket machines