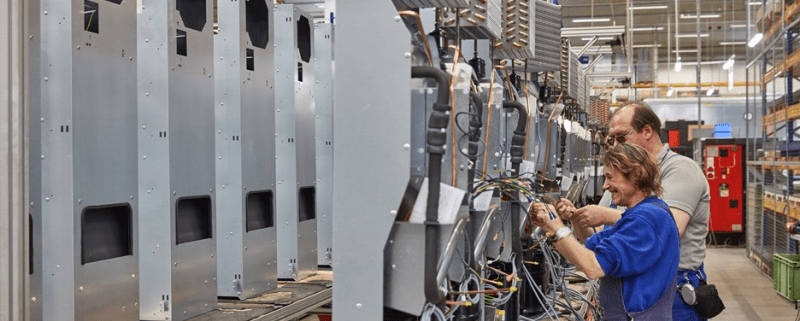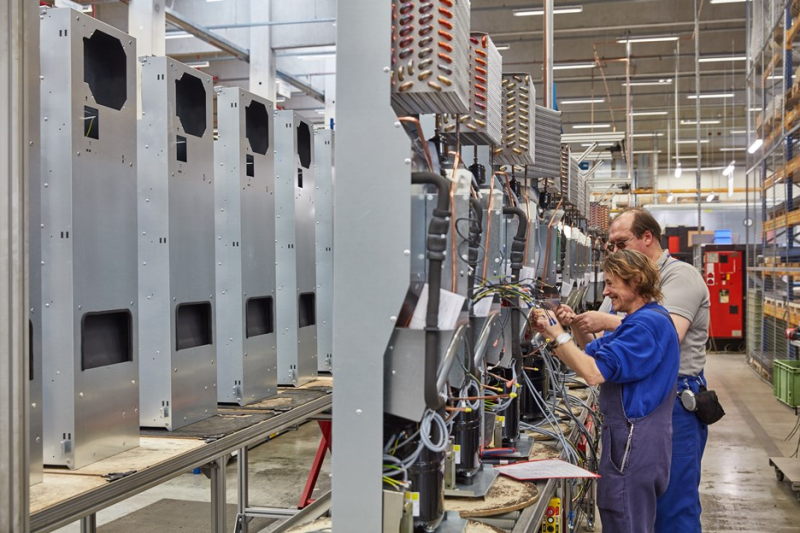 ---
Electrical enclosures like switch cabinets need a steady temperature of 35 °C. If that's not the case, the sensitive inner workings could be sincerely damaged. For example, a temperature rise of just ten degrees shortens the built-in semiconductors' lifespan by half. And if an important part of a switch cabinet malfunctions, the following machine damages or production outages could cost the operator millions. Special thermal management and process cooling solutions help to avoid that.
Pfannenberg, a specialist for cooling units, chillers, and signaling technology since 1954, offers especially innovative and efficient ones. This company's eCOOL X series can be integrated into the user's automated processes and remotely controlled via cloud computing.
Autonomous M2M Communication
Solutions like these are made possible by M2M communication. Every cooling unit gets equipped with a wireless module and a SIM card that communicates with an online platform. Connected to the machine controlling unit, this Modbus interface collects sensor data, for example about the switch cabinet's inside and outside temperature, or the speed of the cooling fan. Then the gateway transmits the data in almost real time to the Cloud of Things, a cloud-based management platform. Here, the data get collected, organized, and monitored. Additionally, the information can be fed into local automation systems via the interface.
Cooperation partner for this solution is Deutsche Telekom that with the Cloud of Things offers its customers a single-sourced end-to-end application. Hardware, connectivity, platform and service are fuss-freely provided by one contact partner. The Cloud of Things is hosted in German data centers; this ensures compliance with German data protection laws. "Because we connect the cooling units via cellular communication to the Cloud of Things, we don't have to touch the company's IT," says Conrad Riedesel, head of Deutsche Telekom's Commercial Management M2M unit. "This ensures high data security as well as predictability of investment and operating costs – because we don't charge for our service sweepingly but depending on the number of connected machines and based on special M2M rates."
Everything at a Glance
The Cloud of Things evaluates and visualizes the machine's collected relevant status data on its own. Users can have a look at this compilation where- and whenever they want – they just need a computer, laptop, tablet, or smartphone with an internet connection. They can also define thresholds for every measured value; if one gets exceeded, the Cloud of Things alarms a predefined person. That makes the monitoring of several assets at different sites much easier. "Due to the automatic alarm notifications, we can make sure that critical operating conditions will get noticed before any further damage by high temperatures is done," says Pfannenberg's CTO Nils-Peter Halm. "Thus, our customers are much better protected against expensive production outages." And the longer the machines are connected to the Cloud of Things the more conclusions the platform can draw as to which thermal loads each individual cooling unit has to shoulder. That makes more individualized – and better – settings possible.
Integration Into Automation Systems
On request, the eCOOL X cooling units can be integrated via Modbus interface into the fully automated machine and process cycles on site. There, they can be controlled decentrally and the process chain is able to react independently to warnings and adjust the cooling performance as needed. "The future belongs to smart factories. We get our thermal management systems ready for our customer's networked production cycles," says Andreas Pfannenberg, CEO of Pfannenberg.
https://www.pfannenbergusa.com/wp-content/uploads/2017/11/M2MWebsite_Telekom_M2M_CustomerReferences_Pfannenberg_860x260-1.png
533
800
Marine Vienney
/wp-content/uploads/2015/11/logo_retina1.png
Marine Vienney
2020-06-05 10:25:24
2021-10-13 11:54:00
Automatically Efficient: Pfannenberg's Networked Cooling Units