Chillers for Industrial Automation and 3D Printing Applications
By Adam Wells, Solutions Engineer, Pfannenberg USA
In the last several years, the use of Industrial Automation and Industrial 3D Printing technology has increased seemingly exponentially. While these technologies confer major benefits in terms of efficiency, quality, cost, and lead times, they also present unique challenges in terms of protecting the sensitive electronic equipment from heat. The buildup of heat can degrade electronic devices used in these processes, thus reducing their life span and increasing total cost of ownership. These technologies require purpose-built industrial fluid cooling solutions; namely, they require chillers with streamlined design, built for a range of environmental conditions, and available on short lead times. Finding such chillers can be difficult.
Industrial fluid cooling equipment for Automation and 3D Printing environments
Rapid technological advancements over the last decade or so have dramatically increased the scope and prevalence of industrial automation and 3D printing technologies in industrial settings. Many packaging and manufacturing operations, in automotive, food and beverage, and more industries, are moving towards widespread adoption of these technologies in an effort to increase efficiency, reduce staffing needs, and improve quality. In the adoption of this technology, the demand for industrial chillers that meet the unique needs of automation and 3D printing machinery has undergone a similarly rapid period of growth. Chillers, as this article will discuss in greater detail, must be designed and sourced carefully in order to provide sufficient cooling in industrial automation and 3D printing applications.
First, I will set out a brief definition of terms to clarify the technologies this article is oriented towards:
Industrial automation is the use of control systems, robots, and/or information technologies to mechanize and control what has historically been human labor. Beyond simple mechanization, though, industrial automation, or IA, includes some level of autonomous process control. Examples of IA processes include CNC manufacturing, the use of robotic arms to construct and move products in manufacturing, and more.
3D Printing is a specific automated process in which a physical object is constructed from a three-dimensional digital model, typically by laying down many successive thin layers of a heated and then extruded material. It brings a digital object (its CAD representation) into its physical form through a layered additive manufacturing process. Undertaken at a far larger scale than benchtop 3D printing for prototyping or hobby use, industrial 3D printing technology is a viable option for producing parts in large quantities at once, all from the same digital model.
In many cases, IA and industrial 3D printing requires the addition of chiller equipment to cool and protect electrical and mechanical components or to cool parts after manufacturing. Motors in CNC manufacturing and large robotic arms as well as motors and pumps in industrial 3D printers often require their own liquid water chillers. Similarly, manufacturing processes that utilize industrial 3D printing alongside other methods, like the printing of caps for aseptic milk containers, require chillers so that printed parts can be water-cooled for release from printing molds or before moving on to the next phase of manufacturing. In all of these cases, the chiller systems ought to be utilized with water handling systems that collect, filter, re-cool, and re-cycle water through the system in multiple cooling cycles.
Packaged chillers enable rapid project development and implementation
Industrial automation and industrial 3D printing are lauded for the benefits they confer on manufacturing processes: higher production rates, increased productivity, more efficient use of materials, better product quality, improved safety, reduced labor needs, and shorter factory lead times. As with all manufacturing methods, there are also challenges that accompany these benefits. One of the primary challenges manufacturers face is that since IA and 3D printing technologies are often implemented to increase speed and efficiency and thus reduce costs, all supplementary technology, like chillers, must also meet speed and efficiency demands. Often most challenging is shortening the initial lead time for acquiring these supplementary technologies. Manufacturers generally attempt to implement IA and 3D printing project as quickly as possible, to reap the benefits of increased efficiency, and so the 8-10 week average lead time for chiller equipment can be a major setback.
Pfannenberg, an industry leader in liquid cooling technology, has recognized the challenge that long lead times pose challenges for manufacturers looking to implement IA and 3D printing solutions in their production projects. Out of a concern for customers' ability to solve challenges in an efficient manner, and to get projects up and running as quickly as possible, Pfannenberg has begun to offer stock delivery of chillers that are specifically designed for industrial settings like the ones needed for IA and 3D printing projects: low complexity, highly efficient, and with a high capacity-to-physical size ratio, these chillers deliver cost-effective cooling with no manufacturing and delivery lead time.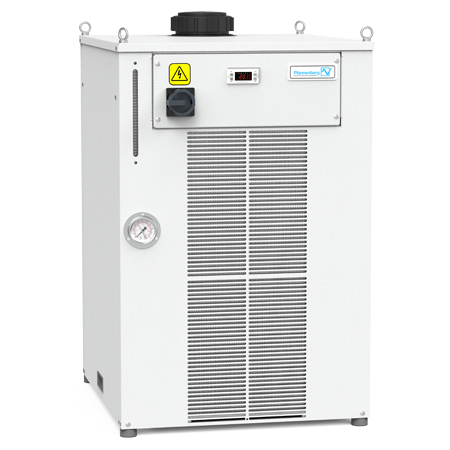 Pfannenberg's CCE Series is an excellent example of packaged, off-the-shelf chillers available with little to no lead time. Typically featuring one to three tons of cooling, the CCE Series is ideal for the kind of small, industrial cooling most IA and 3D printing applications require. These chillers feature leading-edge fluid cooling technology, including newly redesigned condensers for more streamlined and efficient cooling operation. What's more, they can be centralized, using a single chiller that serves multiple cooling needs, or decentralized where each application or machine has its own chiller. This enables manufacturers to tailor water and energy usage to specific process demands, and allows for greater flexibility in expanding production capacity over time.
Chiller design for harsh environmental conditions
Manufacturers must consider more than just lead time when selecting fluid cooling equipment for IA and 3D printing equipment, though. Some manufacturing and packaging environments, particularly those with more heavy-duty manufacturing processes, can pose additional challenges for chiller equipment. Though 3D printing tends to take place in slightly cleaner facilities, environmental conditions should always be considered before purchasing industrial fluid cooling equipment.
Industrial fluid cooling equipment should be designed to function well even in hot, dirty environments, and fluid cooling OEMs should work with manufacturers to determine the proper equipment and placement for that equipment in any given environment. Chillers in heavy duty manufacturing environments should be designed to withstand corrosion and buildup of dirt and grime. Pfannenberg's chillers, for example, are powder-coated rather than painted to improve corrosion resistance, and include micro-channel condensers heat exchanger coils to resist grime buildup in dirty manufacturing environments. The chillers also feature a filter alarm to detect any decrease in performance due to air contamination.
In particularly dirty environments, or manufacturing facilities where the only available space for chillers in is a boiler room or other extremely hot environment, outdoor placement of chiller equipment may be indicated in order to maintain efficient operation. Outdoor placement is also indicated where chiller equipment may pose risks to personnel due to its loud operation or heat emission, or where size is of concern. These chillers, though, need additional environmental protections in order to be able to withstand rain, sleet, snow, sun, and more during outdoor operation.
Pfannenberg has developed the EB Series for higher-demand indoor or outdoor chiller operation; with capacities ranging from five to eight tons of cooling, these chillers are suitable for any outdoor conditions except for sustained extreme cold temperatures. While the majority of manufacturers rely on Pfannenberg's chillers for a 10-20ºF temperature delta, the company's engineers can also collaborate with manufacturers who have more significant cooling needs in either indoor or outdoor environments.
Conclusion
Industrial fluid cooling technology is a critical component to implementing industrial automation or industrial 3D printing systems in a wide range of manufacturing and packaging applications. In order for these IA and 3D printing projects to succeed, manufacturers need to be able to source efficient, reliable, and rugged chillers within extremely fast turnaround times. A departure from previous industrial chiller demands, the challenges faced in industrial fluid cooling for IA and 3D printing require purpose-built, leading edge, and packaged chillers that can be sourced quickly and relied upon for streamlined operation in a wide range of harsh environments.
https://www.pfannenbergusa.com/wp-content/uploads/2020/09/Untitled-1.jpg
900
1600
Marine Vienney
/wp-content/uploads/2015/11/logo_retina1.png
Marine Vienney
2020-09-02 15:21:43
2020-09-02 15:27:25
Chillers for Industrial Automation and 3D Printing Applications