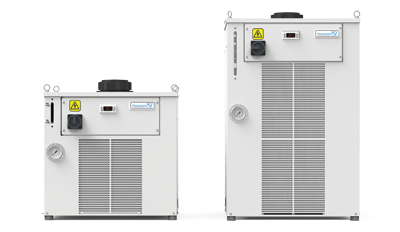 Our line of high-efficiency Compact Packaged Chillers (CCE) are an ideal centralized and cost-effective solution for use in machine tools, lasers, process control systems, and other applications where precise temperature control and reliability are critical.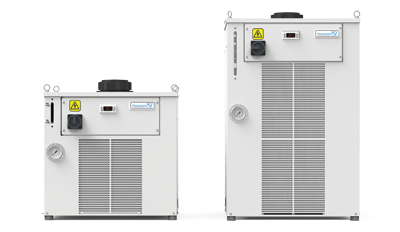 Trouble-free Chillers
Our compact packaged chillers provide years of trouble-free operation. Combining durable, highly reliable components with a compact and lightweight design, these chillers offer easy transportation and consistent reliability. Their heavy-duty construction and highly serviceable design also mean reduced maintenance costs and long service life. Each chiller model comes with comprehensive equipment for easy installation and reliable operation, complete with a Hydraulic Bypass for increased protection against system failure.
Maximize Efficiency
Increasing productivity and product quality doesn't need to come at a cost to a business's bottom line. Utilizing our compact chillers maximizes business efficiency while reducing energy and maintenance costs. These compact chillers feature our Liquid Solutions technology with optimum corrosion resistance when used with our premix Ethylene and Propylene Glycol coolant. The chiller's non-ferrous tank design greatly minimizes corrosion potential, additionally extending chiller life.
Capacity Options
Our compact chillers include the CCE 6301, 6401, and 6601. These models feature 2.4 kW to 6.5 kW capacity. Each CCE chiller offers standard-size features in a compact model. Plus, a single-phase power requirement makes installation a breeze in both commercial and industrial settings.
Reliable and Efficient
We offer customers unparalleled experience and high-quality components providing a high mean time between failures, and high reliability because of it. Plus, all our chillers consistently achieve top grades in energy consumption and efficiency. Centralized cooling can be achieved with a single chiller or chillers can be decentralized, with a chiller for each application. Our systems are customizable depending on application needs.
The CCE's Smart and Precision Cooling features make these chillers a fit for applications from micromachining and precision manufacturing to scientific research and medical diagnostics. The CCE Compact Chillers offer a wide range of cooling capacities to meet a variety of application requirements.
Industry Applications
Lasers
Machine tools
Process control systems
Medical equipment
Food processing
Chemical processing
Pharmaceutical manufacturing
Semiconductor manufacturing
Electronics manufacturing
Visit https://www.pfannenbergusa.com/liquid-cooling/compact-chillers/ to learn more.
https://www.pfannenbergusa.com/wp-content/uploads/2019/09/CCE-Compact-Chillers.png
232
400
Ian Johnston
/wp-content/uploads/2015/11/logo_retina1.png
Ian Johnston
2023-09-06 16:04:07
2023-09-07 15:49:01
Pfannenberg's Compact Packaged Chillers – Efficient and Reliable