Pfannenberg's Air/Water Heat Exchangers withstand dust, dirt, and even sterile environments
Pfannenberg's Air To Water Heat Exchangers offer a solution to fix your thermal management problems in washdown areas, areas with high amounts of particulate or even sterile environments.
Built for both harsh and sterile environments:
The sealed cabinet provides contaminant-free component cooling without adding heat to the local environment. It provides an excellent economic solution where plant water is available or when used in conjunction with a process chiller.  It's sealed design and available stainless steel, NEMA Type 4/4X construction provides a maintenance free solution with no exposed fans or maintenance of filters required.
With IP 56 protection, our Air To Water Heat Exchangers satisfy the toughest environments. They are available with a corrosion protected hood in brushed stainless steel with epoxy-coated copper pipes and condensers; they offer reliable protection against alkaline solutions and acids. As a high-temperature model, they are also suitable for use in hot environments with temperatures ranging up to 140 °F (60 °C).
Customized solution for Pharmaceutical Industry

Customer Requirement
A system integrator contacted Pfannenberg looking for a thermal management solution for their customer's plant expansion project. The original design called for building a control panel with supported thermal management for a pharmaceutical application. The challenge was that this system would be located in a Class I, Div II environment, meaning the enclosure and components had to be explosion proof. To remain competitive in price, the system integrator needed an alternate solution to an explosion proof AC unit.
The Pfannenberg Solution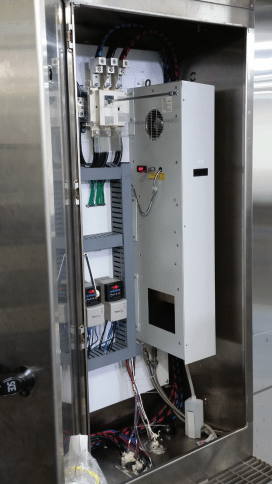 Our engineering team worked closely with the system integrator to develop a solution. The pharmaceutical plant did have water available (60°F at 7gpm flow) and there were no size constraints. Our solution was a customized PWS Air/Water Heat Exchanger.
The solution included:
Increasing the overall envelope of the panel
Mounting a customized PWS Air to Water Heat Exchanger directly inside the panel
The enclosure remained sterile and explosion proof because everything remained inside the cabinet
Customer Benefits
Installing the thermal management product inside the enclosure meant reduced installation and maintenance costs for the customer. In addition the end user also saves money as their available water is used to cool the enclosures. The Air to Water Heat Exchanger provides sustainable efficiency and reliable performance in harsh environments.
/wp-content/uploads/2015/11/logo_retina1.png
0
0
Marine Vienney
/wp-content/uploads/2015/11/logo_retina1.png
Marine Vienney
2018-04-04 16:35:11
2022-08-18 15:41:20
Pfannenberg's Air/Water Heat Exchangers withstand dust, dirt, and even sterile environments