Premium Quick Filter, PQF, for Easy Filter Maintenance
Our PQF Premium Quick Filter is ideal for managing particulates and oily mist on critical equipment. Typical internal metal filter systems require equipment downtime to clean and maintain. The PQF Filter affixes externally, acting as a first line of defense for critical equipment and eliminating the need for maintenance downtime.

Oily and dusty buildup is a leading contributor to system failures as buildup reduces airflow and causes system overheating. The PQF Premium Quick Filter has helped our customers reduce their aluminum filter maintenance to two or fewer times per year—allowing businesses to allocate technician resources for other critical needs.
Requiring virtually no setup time or training, the PQF filter comes with 60 pre-rolled filter sheets, designed to make PQF filter changes a breeze. Simply affix the magnetic PQF system above or next to the air inlet, pull a filter square across the opening, and secure it. When it's time to change the PQF filter, simply lift and tear the old filter off, and pull to secure a new sheet.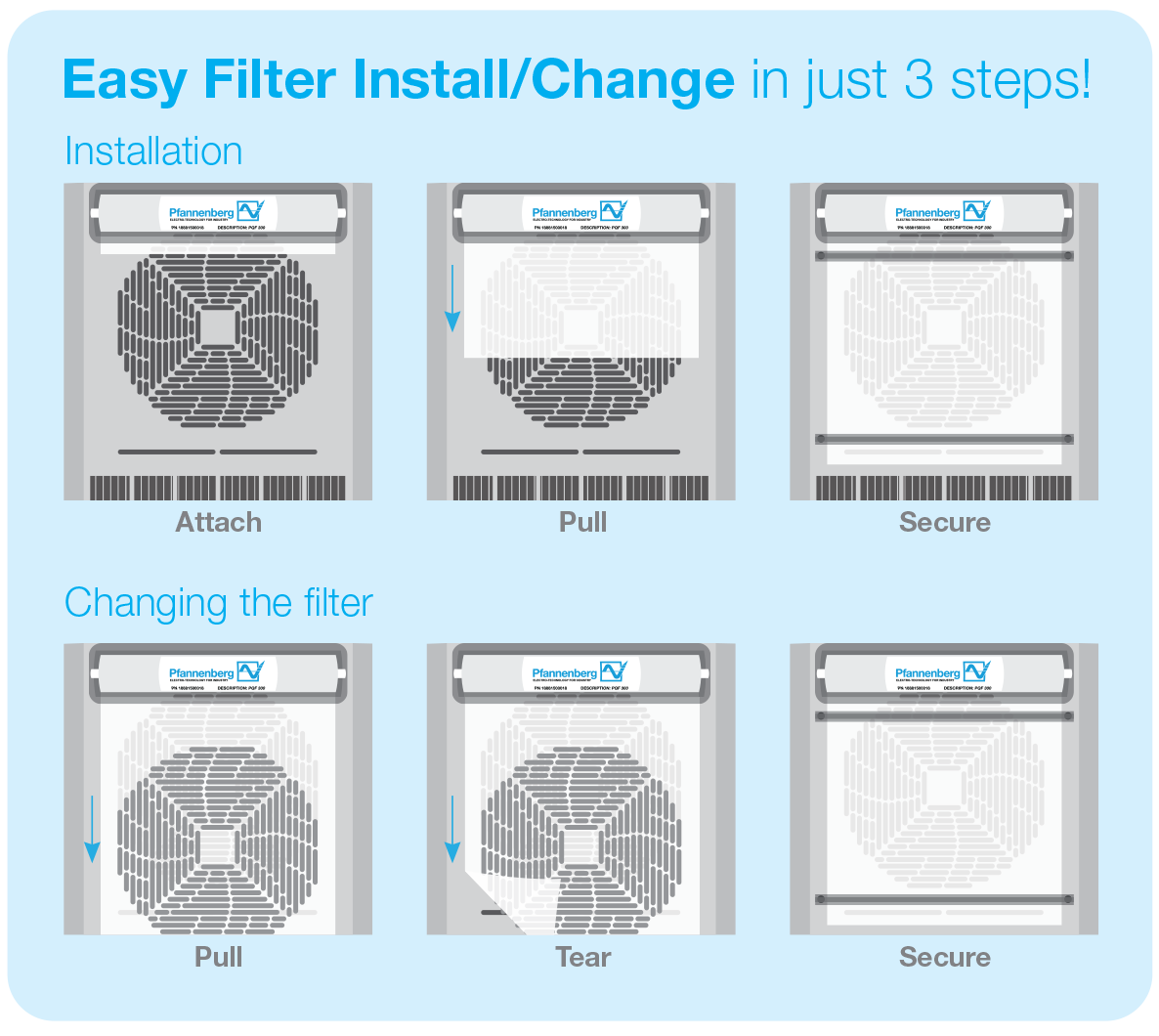 Each PQF roll has 60 tearable, 200mm (8inch) sheets. If changed weekly, this provides enough filter replacement for over a year. Filter options come in three different lengths: 200mm (8inch), 300mm (12inch), and 400mm (16inch), making the PQF ideal for a wide variety of applications and virtually any air inlet size.
Increase the Life of Your Equipment & Reduce Down Time with Pfannenberg's New PQF!
https://www.pfannenbergusa.com/wp-content/uploads/2021/07/pfq_dts-e1627573219144.png
548
500
Ian Johnston
/wp-content/uploads/2015/11/logo_retina1.png
Ian Johnston
2023-10-19 15:51:36
2023-10-19 15:51:36
Premium Quick Filter, PQF, for Easy Filter Maintenance