DTS Cooling Units
For Harsh Environments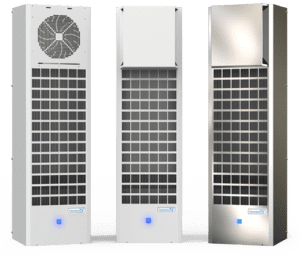 DTS Cooling Units offer an ideal cooling solution for spindle motors and automation drives in automotive production, and provide superior performance in harsh environments with high temperatures. Energy consumption, a critical factor in automotive manufacturing, is significantly improved with the addition of a DTS Cooling Unit, which can nearly halve energy consumption for the cooling of your electronic equipment.
Top Mount Cooling Units have unique condensate safety feature for cabinets in areas where space is limited.
Offered in NEMA Type 12/3R/4/4X 304 stainless steel, the DTS Cooling Unit utilizes an internal heater which eliminates the need for a drain line, and is coated with special polish to repel contaminants, will seal out the ambient air, and cool and re-circulate clean, cool air.
The DTS Cooling Units closed loop design isolates the external ambient air from the internally conditioned air eliminating the risk of contaminants entering the cabinet. The hermetically sealed compressor guarantees 100% cooling capacity efficiency. The absence of any refrigerant fill valves eliminates leak paths.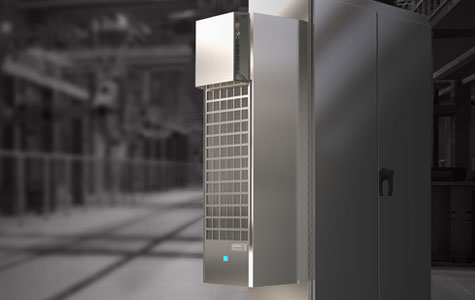 Ideal for automotive manufacturing where:
Hot and Clean or Hot and Dirty conditions (80° to 140 °F)
NEMA Type 12/3R/4/4X
Outdoors or heavy spray
Anywhere that condensate is an issue
Sample Applications:
Spindle motors and automation drives
Power converter cabinets
Drive trains
Assembly Process
Motorized conveyors
 Robotics
Control equipment
PWS Air To Water Heat Exchangers
For the Most Challenging Conditions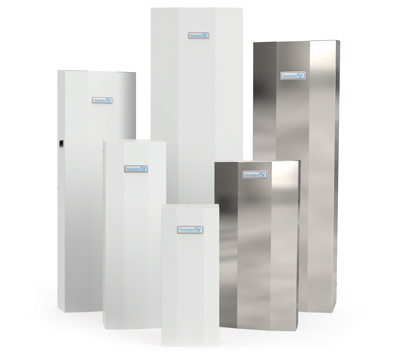 PWS Air To Water Heat exchangers are widely deployed to protect variable frequency drives, which are some of the most important pieces of equipment in manufacturing for various processing applications.
PWS Air To Water Heat Exchangers remove a considerable amount of heat while isolating sensitive electronics from a corrosive atmosphere outside of the enclosure.
If a water source is not available on site, facilities can combine PWS Air To Water Heat Exchangers with Pfannenberg Packaged Chillers for an efficient closed cooling solution. Paired with a Chiller, the PWS Air To Water Heat Exchanger provides a total cooling solution that manages process and/or controls enclosure heat gain and effectively removes it from the processing area.
Single source responsibility for the complete system ensures properly matched components that are engineered to work together.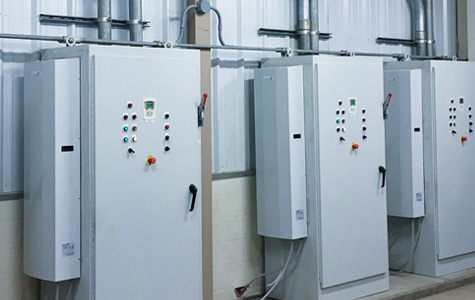 Ideal for
automotive manufacturing
where:
Hot, Dirty and Oily environments (Up to 110 °F)
NEMA Type 12/3R/4/4x
Heavy particulate, such as sand, soda ash, wood or paper dust, oil
Conductive or static electricity
Flammable, vibrations
Energy conscious
Sample Applications:
Component fabrication (Tire production, Body metal stampings, Suspension forgings)
Powertrain assembly
Spindle motor cooling
Cutting oil cooling
Hydraulic oil cooling
Polyurethane foam mixer
Milling and turning equipment
Related articles:
PKS Air To Air Heat Exchangers
For the Harshest Environments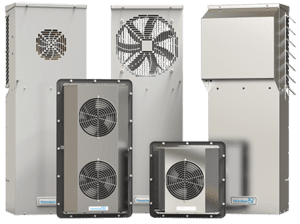 To maintain a 95°F internal enclosure temperature in a contaminated environment and protect the enclosure electronics, a closed loop system is necessary. This was traditionally accomplished with a compressor based active cooling unit, but the heat removed from the enclosure as well as the extra heat generated by the compressor are released into the climate controlled environment. This leads to higher energy costs and an increase in maintenance cost from more moving parts.
One of the best technologies to use when there is a temperature difference between the internal target temperature and the surrounding temperature (∆T≥10°C) is air to air technology. An air to air heat exchanger removes heat from inside of the enclosure to the cooler environment using the least amount of energy while still providing a closed loop ingress protection.
A Pfannenberg PKS Air To Air Heat Exchanger uses a single cutout size and is available in four capacities. Unlike an active cooling unit a PKS unit uses passive cooling from the cooler ambient air for heat transfer to maintain 95°F without having extra heat generation from a compressor. A PKS only has two moving parts (fans) so there is less of a chance for failure.
Evidence shows that for every active unit that is replaced by a PKS Air To Air Heat Exchanger, your plant could save a significant amount annually in just energy consumption. See related articles in the sidebar to read the full story.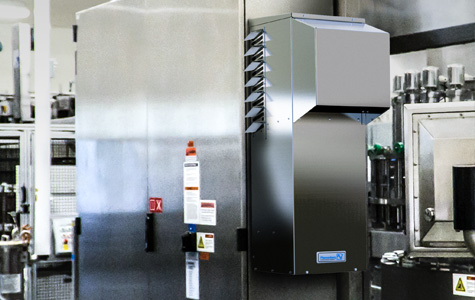 Ideal for automotive manufacturing where:
Cool, dirty conditions (-13° to 131°F)
NEMA Type 12/3R/4/4X
Temperature controlled environment
Need to reduce heat condensation
Protection against corrosion and contamination
Energy conscious
Sample Applications:
Packaging
Shipping/receiving
Quality control
Assembly
Tower lights / StackLights, Signaling and Alarms
For Areas where Employee and Public Safety is Critical
In many automotive plants, there is a clear lack of signaling and alarms leading to potential safety issues.
In others, signaling confusion occurs when the same signaling is used for different issues.
With robust flashing sounders offering more than eighty tones, our signaling solutions provide widespread coverage through each alarm, significantly reducing the number of signaling devices needed, resulting in an application that not only ensures industrial safety, but is economical as well. And our signaling devices ensure a maximum signaling range, which significantly reduces the number of converters you need.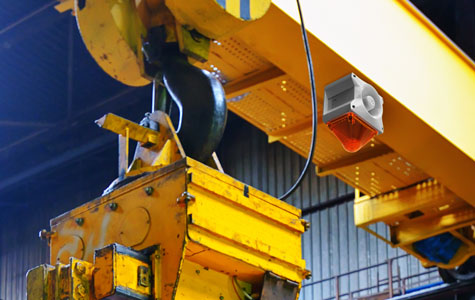 Ideal for manufacturing plants where:
Machine alarming, indication, or warning required
Gas detection for carbon black, diesel fuel or odor-reducing, and chemical leaks
Ruggedized, robustness due to humidity
Flammable materials present
Sample Applications:
All manufacturing industries: Packaging, shipping/receiving, quality control
Potential for fire
Audible signals when starting up the operation
Assembly process
Paint shop: Explosion-proof flashing lights and audible alarms
Robotics