Industrial Concepts partners with Pfannenberg to create an innovative wireless audible & visual alarm safety solution.
Overview
Industrial Concepts, Inc. of South Carolina has partnered with Pfannenberg USA, a leading manufacturer of thermal management and audible/visual alarms, to develop an innovative signaling solution for large-scale plants. This fully wireless solution uses Pfannenberg's audible and visual alarms to integrate into existing automated alert systems. The elimination of plant-wide re-wiring means lower costs upon installation as well as in future maintenance.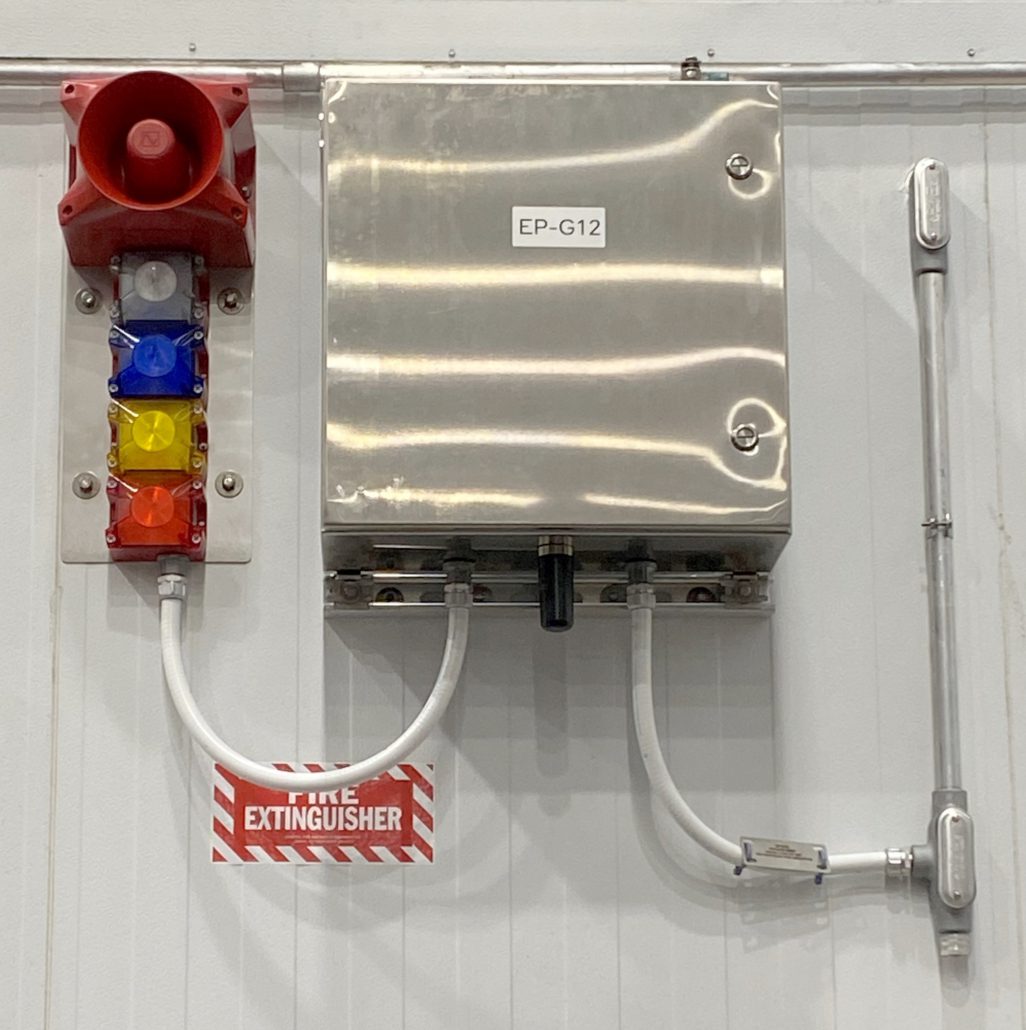 The Need for an Innovative Solution
A global food company needed a new employee notification system for a large, existing processing plant and turned to Industrial Concepts, Inc. for an innovative solution. Industrial Concepts paired a wireless Hitachi (ABB) radio with visual and audible alarms from Pfannenberg to deliver a flexible, effective system with up to a 60% cost savings over traditional methods. This new system ensures all plant employees are alerted to chemical, weather, active shooter, or fire situations with both visual and audible warnings.
When initiating the project, the new system needed to integrate with the existing fire system while minimizing the retrofit cost. It was quickly identified that wiring a million square foot facility to provide adequate coverage to all the staff was a major roadblock. So Industrial Concepts paired the wireless Hitachi 900 MHz radio with Pfannenberg's easy to install, Patrol PA 20 Sounder to develop a wireless solution, eliminating a complete re-wiring.
A prototype was created using wireless radios primarily found in the oilfield drilling industry, because of their ability to provide great radio signal penetration through buildings, concrete walls, and other physical barriers. These radios were paired with Pfannenberg's customizable PA 20 Sounders that provide up to 80 different alarm tones at a 120 dB sound pressure level. Using this prototype, the plant was surveyed by specialists, checking wireless signals and audible sound levels throughout the entirety of the space.
To satisfy the visual alarm requirements, initially a 24-48 LED light bar was added because the display color could change depending on the emergency, however it was determined that this LED option was too soft a light and not ideal for this application.
Iterating the Solution
Industrial Concepts determined using four-color light panels (compared to one light with four combinations) would be more beneficial for large, loud environments. This proved to be a fitting solution, and the current hardware of this audible and visual alarm system utilizes the Pfannenberg PA 20 Sounder and the four-color combined PYRA PY X-S strobes.
The strobes enabled more perceptible light reflections and higher visibility throughout the plant. Compared to the LEDs, which catch attention if you're looking in their direction, the strobe effect provides a flash that bounces off equipment and walls. This demands the attention of plant personnel, even if they're not looking directly at the lights. The PY X-S strobe uses Pfannenberg-exclusive xenon flash technology, operating at 60 flashes per minute, and has an 8 million flash service life, functioning in any climate.
Situational light differentiation is as follows:
Chemical alert – Yellow
Weather alert – Blue
Active Shooter alert – Red
Fire alert – White
To prevent confusion with the existing fire alarm strobes, this color sequencing above was used.
Each alarm event has a different horn tone to provide further situational information. In a plant where workers may speak many different languages, having a voice-over through the speaker system isn't as beneficial or inclusive. This solution was initially developed for meat processing facilities, where background noise can get up to 110 dB. Pfannenberg's 120 dB sounders are used to ensure the alarm cuts through that noise.
To handle the intelligence side of the solution Industrial Concepts uses an ABB Compact 800 System. This enables the distribution of alerts based on the situation and allows the plant to have more control over the dissemination of information, only alerting who is necessary. With more specified alerts, plants can diminish the number of evacuations for each emergency, resulting in less down time.
This radio, strobe, and horn combination is the solution Industrial Concepts continues to put out today. This Pfannnenberg enabled solution allowed Industrial Concepts to take advantage of the readily available infrastructure and it is extremely flexible to each plant.
In-plant Processes
This specific system requires manual operation, but its flexibility allows it to be integrated with other automated systems. For example, integrating a fire system into the Industrial Concepts system allows both systems to be activated by a single manual switch. Another installation example featured integration of a company's automated chemical detection system with the Industrial Concepts system.
System interface process panels are housed in designated areas throughout the plants and feature touch screen switches. Most plants have security guards who can activate the system at any time, but if any personnel witness an emergency situation, they can activate the system as well.
Each plant determines its own rules, but generally if someone sets the system off, an employee at the supervisory level must reset it. This ensures important data, such as alert location, isn't lost. Each area of the plant has an alphanumeric designation, so Industrial Concepts can determine where signals come from and log them.
Benefits of the Signaling Alarm Solution
Efficacy, flexibility, and lower cost are all key benefits of the signaling solution. The combination of strobe lights and the sheer variety of alarm tones make for impactful alerting and messaging, demanding employee attention and providing key information despite potential language barriers. The radios that are used in the system are typically for heavy use applications and therefore offer the utmost reliability. These radios are fully adjustable, meaning the amplitude can be altered to work on a narrower spectrum. The system enclosures that protect the radios and other electronics to the signaling devices are TYPE 4X UL Certified to ensure Washdown capabilities, making them functional in any environment.
With a fully wireless system, plants can save hundreds of thousands of feet in wiring. Industrial Concepts branches into local power circuits and has developed systems to maintain power, even in the face of total power loss. It is 3-4x more costly to use a hard-wired system. For any industry or plant with high volumes of people and noise, finding an efficient and cost-reductive way to notify them can prove to be difficult. This is a solution that's especially inexpensive for larger sites. Plus, while OSHA requires 15 minutes of run time for emergency systems, this system offers 2-3 hours of uptime even when power is not available.
For plants with a fiber optic infrastructure in place, it's possible to build the same system with a combination of wireless and fiber infrastructure. In these cases, the same horns and lights are utilized, but with fewer radios. Spare fiber optic strands that are not in use for any other purpose get repurposed to a dedicated Industrial Concepts network.
The system is designed for easy installation by any qualified electrical contractor.
All installations and solutions are customized to the specific needs of the site. Site surveys are conducted to determine the best signaling solution for the clients.
Interested to learn more?   Contact our Business Developement Manager for Audible and Visual Alarms @ ari.freund@pfannenbergusa.com  Or  Ask us a question here.
https://www.pfannenbergusa.com/wp-content/uploads/2023/05/Signaling_Success_IndustrialConcepts_1-1.jpg
2548
2539
Ian Johnston
/wp-content/uploads/2015/11/logo_retina1.png
Ian Johnston
2023-05-08 11:52:00
2023-05-10 15:48:22
Innovative Audible & Visual Solution Optimizes Safety in Large-Scale Plants