New Redesigned and Updated 2019 North American Signaling Product Catalog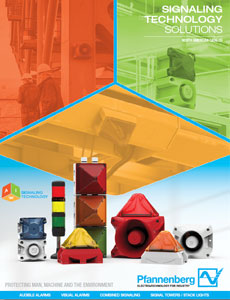 Pfannenberg is glad to announce its updated 2019 North American Signaling Catalog, featuring the complete North American focused audible and visual signals for industrial applications.
Redesigned to assist with product selection, the new catalog highlights indication, warning, and alarm solutions for automotive, metal manufacturing, material handling, cold storage, water/wastewater treatment, mining, heavy industry and maritime applications. Pfannenberg's innovative 3D-Coverage approach gives customers a reliable tool to evaluate product performance based on physical space to be covered, personnel limitations like eye and ear protection, and special conditions.
The new catalog includes audible signaling devices, visual signaling devices, and combined signaling devices. Pfannenberg's durable DS Sounders, PATROL® Sounders, PYRA® Flashing Lights, and Quadro LED-HI Lights carry an industry-leading factory-backed 10-year warranty. Also featured are PATROL® and PYRA® combined signaling products for enhanced safety in loud, bright, or dirty conditions featuring multiple tones for multiple events.
Pfannenberg's unique 3-D Coverage approach creates transparency for signaling product performance and results in more efficient solutions. To ensure personnel safety, this approach takes into account the space needing to be covered, the standards or codes that must be met, and the detailed performance characteristics of visual and audible signaling devices needed. Pfannenberg's 3D Audit methodology guides customers in selecting the most effective signaling to capture the attention of personnel, and to convey critical information on the nature of the alarm.
Download the catalog to get more information on how Pfannenberg provides protection for man, machine, and the environment with technically superior signaling devices.

---
About Pfannenberg
Established in 1954 by Otto Pfannenberg in Hamburg Germany, Pfannenberg is recognized as a leading global manufacturer of thermal management technologies within the Electro-technology Industry. In 1958 we invented the Filterfan®, which continues to be recognized worldwide as a leading product to help manage the temperature in electrical enclosures. Our business philosophy: Protecting Man, Machine and the Environment.
https://www.pfannenbergusa.com/wp-content/uploads/2019/02/2019_signaling_catalog_thumb.jpg
300
230
Marine Vienney
/wp-content/uploads/2015/11/logo_retina1.png
Marine Vienney
2019-03-15 10:43:01
2019-03-15 10:47:56
New Redesigned and Updated 2019 North American Signaling Product Catalog