PATROL & PYRA Industrial alarms: Technically advanced devices which exceeds requirements
With innovative design and robust construction to fulfill the most demanding requirements, Pfannenberg PATROL & PYRA® Visual and Audible Signaling Devices are the best choice for industrial safety.
SAFE, EASY, ECONOMICAL:
Pfannenberg PATROL & PYRA® Industrial alarms meet the requirements of IP rating protection as well as having an impact-proof housing. In addition, the base connection terminals, undetachable seals and quick locking elements greatly facilitate easy mounting.
ADVANTAGES AT A GLANCE: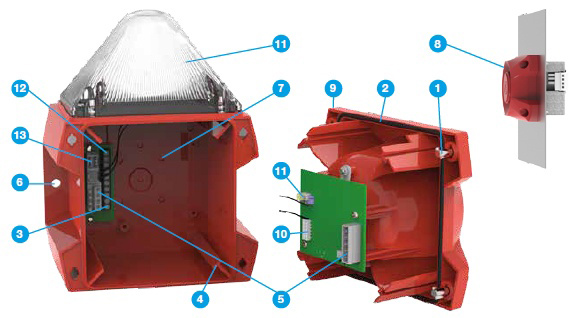 Unique enclosure fasteners
• 3/8-turn fasteners for quick and easy assembly. (1)
• Captive fasteners: installation and assembly are simplified and screws cannot get lost.
• Optional tamper-proof fastener plugs protect the unit from alterations.
• Fastener design shows whether "closed" (x) or "open" (+).
IP 66 enclosure rating
• Gasket is permanently sealed to the enclosure cover. (2)
• Enclosure fasteners are outside of the sealing area to ensure that the IP rating is not compromised by fastener holes. (1)
Error-free electrical connections
• Screw terminal strip is located in the base-box portion of the enclosure allowing easy, one person installation – a third hand is not needed. (3)
• Acoustic driver electrically connected to the base-box through an integrated mechanical key way and multi-pin electrical connector to ensure proper assembly every time. (4) (5)
• Knockouts are provided on multiple sides to support a variety of wiring and interconnection scenarios.
Numerous mounting options
• Integrated external flange is stronger than mounting lugs. (6)
• An assortment of internal pilot marks offer worldwide compatibility with a variety of standard electrical work boxes. (7)
• Entire device can be wall mounted or panel mounted optional with finger guard. (8)
• Acoustic module by itself can be flush mounted to an enclosure panel. (9)
Vast selection of integrated tones
• Choose from 80 different tones by a DIP switch setting. (10)
• Multiple tone stages permit the same device to emit up to four different alarms based on circumstance + internal volume control.
Improved acoustic driver
• Sound capsule technology delivers more low frequency punch than piezoelectric elements for superior sound penetration through walls, doors, and other obstructions.
Extreme environment compatibility
• NEMA type 4/4X and IP 66 rating withstands exposure to dust, liquids, water spray, and corrosives.
• –40 to +55 °C temperature range.
• High strength housing is a blend of ABS and poly carbonate plastic that is flame retardant and UV stabilized.
Integrated xenon flashing light
• Xenon flashing light is part of the original design inception, rather than a bolted on afterthought. As such, the light is more visible. Additionally, the light's intensity is properly sized to match the coverage area of the associated sounder. 5, 10, and 15 Joule flash energies are available. (11)
Xenon flashing light connections made from single terminal strip
• Pre-wired light connections are made at the terminal strip that is also the electrical connection point for the sounder. Since all connections are made from one common connection point, installation is quicker and easier. (12)
Choice of alarm action – combined or separate
• The light can either be activated in conjunction with the sounder or separately from it. Separate operation is often desired to silence the sounder after a certain elapsed time while the light continues to flash. (13)
Life span exceeds 8,000,000 flashes
• The superior technology behind Pfannenberg's flashing lights permit an unrivaled life span of 8,000,000 flashes while retaining greater than 70 % light emission.
Worldwide certifications for universal acceptance
• UL, cUL, CE, VdS, GL, EN 54-3.
---
'PLUG & PLAY' MOUNTING SYSTEM:
Quick, easy, and safe installation. Saves time and reduces costs. Potential errors are eliminated and incorrect assembly is not possible.
---

Pfannenberg industrial alarms with visual and audible notifications come with a standard 10-Year Warranty, guaranteed in protecting man, machine, and the environment.
Click here to learn more about Signaling Technology and Solutions!
---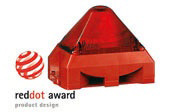 Pfannenberg's design excellence for its Signaling Solutions is internationally recognized and has been awarded the prestigious Red Dot Award in 2013 for PATROL and in 2015 for PYRA-MA.
---
Still not convinced? Click here to Watch our Signaling "Crash Test" videos!
https://www.pfannenbergusa.com/wp-content/uploads/2016/12/Advantages.jpg
318
582
Marine Vienney
/wp-content/uploads/2015/11/logo_retina1.png
Marine Vienney
2018-03-13 10:46:03
2019-01-14 11:15:44
PATROL & PYRA Industrial alarms: Technically advanced devices which exceeds requirements