Pfannenberg Illuminates the Tallest Christmas Tree in Paris
---
Flashing lights make the "Place de la Concorde" shine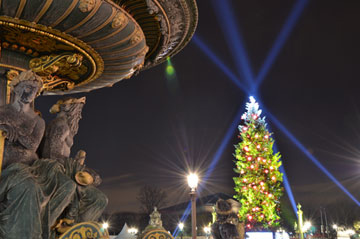 Hamburg, December 2012 – The tallest Christmas tree in Paris, which stands at 35 metres high, has been shining at the Place de la Concorde since the 6th December.
Equipped and illuminated with Pfannenberg 52 Quadro F12 flashing lights and inaugurated in an official opening ceremony by Paris' mayor, Betrand Delanoë, the extraordinary light spectacle can be admired by inhabitants and visitors for a whole month longer.
Once again, Pfannenberg has proven that it is a competent partner in terms of art illuminations. As early as 2003, 20,000 Pfannenberg flashlights put the Paris landmark, the Eiffel Tower spectacularly in the limelight. Pfannenberg as a Hamburg company it was an absolute must to illuminate the Hamburg City Hall in 2004. And in 2008 9,500 flashing lights illuminated the Trinity Bridge, the television tower and the summer night sky in St. Petersburg.The French company SAF MAGNUM was commissioned by the City of Paris and is thus responsible for the Parisian Christmas Tree illuminations. The company is, amongst other things, a specialist for the illumination of events. Whilst searching for a manufacturer of flashing light circuit boards, SAF MAGNUM encountered the Quadro flashing light used in the Parisian Eiffel Tower which was produced by Pfannenberg. SAF MAGNUM then used this to build a prototype for the Paris Christmas tree.
For the flashing lights on the Christmas tree the circuit boards of the flashing light Quadro F12 were built into a plastic ball with a diameter of 50 cm. The ball is then, in addition, illuminated permanently from the inside by 12 red high-performance LEDs. The red permanent glow of the balls is made to sparkle by the Pfannenberg flash circuit board by means of a white flash once every second. This light generates 13 joules flash energy, 140 candela light intensity and an internal random generator creates a unique champagne pearl effect.
https://www.pfannenbergusa.com/wp-content/uploads/2017/11/Pfannenberg_illumination_Paris.jpg
239
360
Marine Vienney
/wp-content/uploads/2015/11/logo_retina1.png
Marine Vienney
2012-12-19 04:00:33
2017-11-28 13:33:47
Pfannenberg Illuminates the Tallest Christmas Tree in Paris