Pfannenberg Improves Traditional Industrial Flashing Sounders
---
New Alarm Devices Improve Safety in Workspaces and Buildings!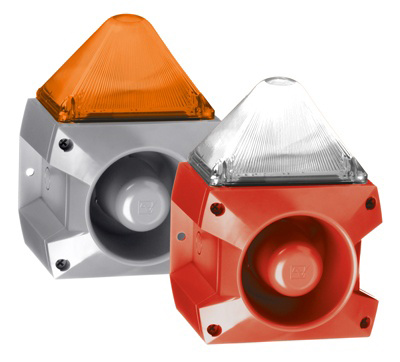 Buffalo, NY (April 9, 2012) — Pfannenberg, a worldwide leader in thermal management and signaling technology, has introduced PATROL Series PA X 5 – a new generation of 105 dB(A) industrial flashing sounders.
Flashing sounders fulfill numerous requirements for alarming individuals of hazardous situations or production problems in factories, water and waste treatment facilities, commercial offices, sports arenas, hotels, and other buildings as well as aboard ships. Applications include: evacuation signals in the event of fire, toxic gas leak, or chemical spill; promoting safety around dangerous machinery by warning personnel and bystanders of impending startup or movement; improving product quality and minimizing waste by warning operators of functional problems with machinery; and alerting production technicians of process upsets due to out-of-tolerance manufacturing conditions. Flashing sounders are an ideal choice for industrial alarms to ensure notification of all individuals in the presence of background noise or lighting.
The new PATROL Series PA X 5 flashing sounders from Pfannenberg offer many advantages. Foremost, the unit is designed as an integrated flashing sounder, rather than combining a sounder with bolted-on flashing lights. The lens cover is large, highly visible, and available in a variety of colors. The xenon strobe flash tube contains no filament to break and is secured by a steel clamp to further protect it from abuse. Users can choose from a wide selection of acoustic tones which are electronically self-generated – and since there are no moving parts, the device's reliability is enhanced for critical applications. The housing is manufactured from a UV-resistant and flame-retardant polycarbonate/ABS blend and is offered in red, grey, or white to meet application requirements and building decor. Also, the unit splits into two pieces for ease of installation. The base portion facilitates all wiring connections so installation is straightforward and requires only one person. Redundant contacts are provided for daisy-chaining of multiple units. The cover, with integrated sound capsule, is neatly fitted to the base through fail-safe guides to ensure proper mechanical and electrical engagement. The cover secures quickly with 3/8 turn captive fasteners that cannot get dropped or lost and incorporates a molded, captive gasket to ensure a positive IP 66 rated seal against dust and liquids permitting use in most environments. The result is a robust device which always assembles correctly and in much less time than competitive offerings. In addition, the fasteners may be protected with an optional tamper-proof seal.
"The design team at Pfannenberg truly took a step back in order to evaluate the flashing sounder's entire solution requirements from performance, handling, and installation perspectives. The result is an elegantly engineered product that delivers multiple advantages, which system integrators, facilities engineers, machinery safety engineers, and installation electricians will benefit from," says Product Manager Ray Limburg.
Performance features of our audible alarms are also numerous and include the ability to select from 80 unique tones (by dip switch setting) including continuous, sweeping, alternating, pulsing, and interrupted tones as well as simulated bells, sirens, and whoops that meet international standards. Four tone stages are available at each setting, permitting one device to sound, for example, an evacuation tone, an all-clear tone, a time for lunch tone, and an end of shift tone. Frequency content of delivered tones has been engineered to deliver more "punch-through" of obstacles such as walls and doors for a wider area of coverage – resulting in significant cost savings due to fewer units being required for multi-unit installations. The flashing strobe lights are available with either 5 Joule or 10 Joule flash energy to provide a noticeable level of alarming to suit the required area of visible coverage and hazard severity for the application. Click here for more information.
https://www.pfannenbergusa.com/wp-content/uploads/2017/11/Flashing_sounders.jpg
362
400
Marine Vienney
/wp-content/uploads/2015/11/logo_retina1.png
Marine Vienney
2012-04-09 02:00:18
2019-01-14 11:04:22
Pfannenberg Improves Traditional Industrial Flashing Sounders