PYRA® Flashing Strobe Lights & Sounders – Bright Versatile Alarms that Installs Anywhere
Pfannenberg range of PYRA® Flashing Strobe Lights and Sounders are the best solution for many applications worldwide. Due to the large signaling coverage provided by Pfannenberg's alarms, the amount of signaling devices required is significantly reduced. This supports an application that is economical while ensuring industrial safety.
Pfannenberg range of PYRA® Flashing Strobe Lights and Sounders offers:
Visible field of 180° x 360°
Surface or flush/panel installation
Extremely robust enclosure for any outdoor and indoor applications
Mounting atop metal conduit with standard 1/2 NPT compression fitting
Extremely Bright Strobe Lights
Signaling devices with XENON technology, such as Pfannenberg's PYRA® series (PYRA® X-S, PYRA® X-M and PYRA® X-L), as a rule cover a wider area than comparable products with different technologies and installation locations. Flashing beacons utilize glass tubes filled with xenon gas to produce a bright flash of light when energized.
A typical flash rate is once per second – but this can vary by device. Units with multiple flash capability offer a variety of flash sequences and rates.
Ranging from 5 to 15 Joules, the PYRA® flashing lights belong to a new generation of powerful signaling devices which are convincing because of many advantageous product features.
For example: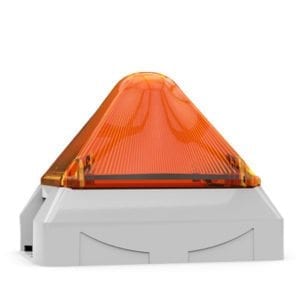 These devices have a ratio between the signaling range and the power consumption which is more than twice as good as that of LED-based lights.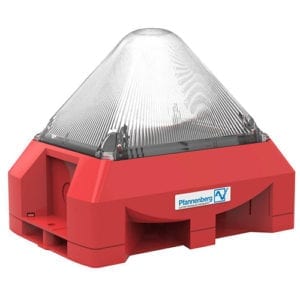 These devices reach a huge visual 3D-coverage area, which is more than double that of the 10 Joule flashing light.
Modern Alarms for Industrial Hazards
Pfannenberg's PYRA visual and acoustic signaling devices can easily be installed on existing systems. Satisfying numerous alarm, warning, and indication requirements, including: machinery operating status, process monitoring, system startup, and building or area evacuation due to fire, toxic gas leak, spills, or intruder alert. These devices offer extensive certifications including UL and CE in support of worldwide requirements. They also include a standard 10-Year Warranty, guaranteed to protect man, machine and the environment.
https://www.pfannenbergusa.com/wp-content/uploads/2018/04/PYRA.jpg
608
1080
Marine Vienney
/wp-content/uploads/2015/11/logo_retina1.png
Marine Vienney
2018-04-10 09:41:37
2019-01-14 11:08:23
PYRA® Flashing Strobe Lights & Sounders – Bright Versatile Alarms that Installs Anywhere