Safest Way to Cool with Water
---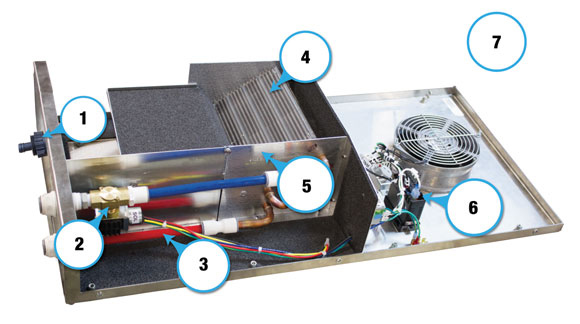 ---
Electronics Cooling with an Air to Water Heat Exchanger
Water is the most efficient form of heat removal. Using an air to water heat exchanger allows you to safely cool your electronics using water, while also keeping external contaminants from entering your enclosure. Air to water heat exchangers also offer the advantage of being low maintenance while using significantly less energy than traditional methods.
---
Advantages of Pfannenberg's Air to Water Heat Exchangers:
How do we safely cool with water?

#1: Bulkhead fitting for condensate drain providing superior ingress protection.
#2: Solenoid valve – controls liquid flow for capacity control and energy conservation.
#3: Color-coded water lines easily identify water supply & return lines.
#4: Air flow path designed to prevent condensate water from entering the enclosure.
#5: Internal design guarantees  full separation of water lines from airflow paths.
#6: Electronic thermostat for more accurate control of temperatures. Manual purge feature eases winterization.
#7: One-piece cover with sloped top for better protection of internal components and easy cleaning in wash-down applications (not pictured).
---
CONCLUSION:
Water has been used for years around sensitive electronics.  There's no reason to be afraid of using water to cool your electronics. This is a great option to consider when your looking for safe and efficient solution to manage your cooling.
---
https://www.pfannenbergusa.com/wp-content/uploads/2017/11/PWS3000_AirtoWaterHeatExchanger.jpg
324
580
Marine Vienney
/wp-content/uploads/2015/11/logo_retina1.png
Marine Vienney
2014-10-01 01:51:02
2019-01-14 10:33:23
Safest Way to Cool with Water