Top-Mounted Cooling Units for Electrical Enclosure Cooling
---
Pfannenberg's Top-Mount Cooling Units meet all industry demands for costs, space and energy savings.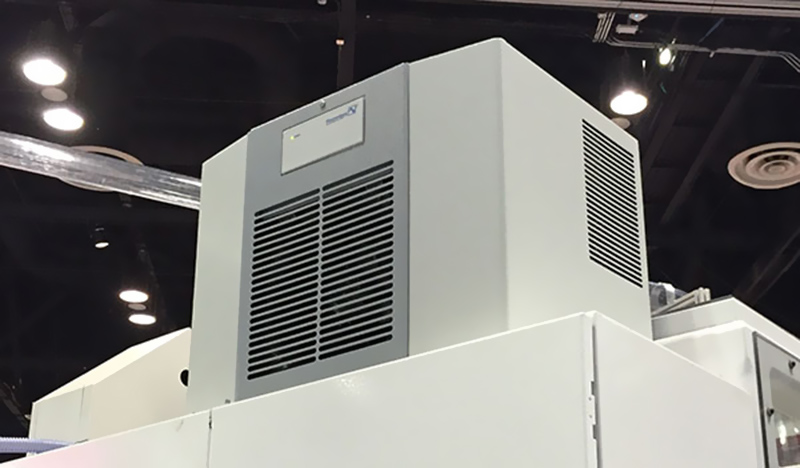 ---
Why choose Pfannenberg's Top Mount Units :
Compact size
Ideal for narrow production lines, electrical enclosures that are placed tightly together in a row and areas that are required to be kept obstruction free. Their top positioning keeps them protected from mechanical damage.
Energy Efficiency
New Proven, Energy Efficient Micro-Channel Technology (an environmentally friendly solution that using 50% less refrigerant than standard coils). The additional Energy Savings Mode allows the unit to automatically switch off the internal motor.
100% condensate protection
Main features of the DTT's innovative condensate management include re-positioning of the cooling circuits. Moving the cold area up prevents the cold bridge to the electrical enclosure and also enables a problem-free drainage of condensate. An extensive separation of air flow and evaporator stops the formation of twirling droplets. Lastly the integrated air outlet nozzle makes the use of conventional air hoses unnecessary, minimizing the condensation risk.
Unique Design
The compact, top-mount design allows you to save valuable space to use for other purposes. Its low energy consumption reduces your energy costs. Our DTT Top Mount Units have a unique, revolutionary patented condensate management design. The innovative position of the cooling circuits challenges the traditional design of top mounted units, preventing condensate from penetrating the electrical enclosure.
Flexible
The DTT series are available in three installation sizes and six performance classes – from 500 W to 4,000 W, providing the optimum enclosure cooling from every manufacturer.
Additionally the product range of filter media covers virtually every area, for example aluminum filters for air containing oil or aerosols or fluted filters for highly dusty environments. Pfannenberg's DTT top mounted cooling units comply with the protection class up to IP54 level of protection for control cabinets.
Service and maintenance friendliness
> Easy, tool-free installation thanks to quick fastening clips on the bottom of the unit.
> A removable cover that can be taken off the front allowing for quick access to the components.
> A Tool-free filter change requiring no screws that can be carried out in seconds.
> Uses the same filter media found in our DTI/DTS series door-mounted and side-mounted cooling units.
---
Click here if you need more information about our Top-Mounted Cooling Units!
Topics: Enclosure Cooling, Cooling Units, Thermal Management
https://www.pfannenbergusa.com/wp-content/uploads/2017/11/DTT_Top-Mounted_Cooling_Unit.jpg
468
800
Marine Vienney
/wp-content/uploads/2015/11/logo_retina1.png
Marine Vienney
2015-10-08 03:44:12
2019-01-14 10:01:13
Top-Mounted Cooling Units for Electrical Enclosure Cooling