Pfannenberg Installs Sounders at the Distribution Hub of One of the World's Largest Online Retailers
Standard-compliant alarm system: 96 PATROL Sounders in a  100,000 sq ft. warehouse
Pfannenberg has equipped a distribution hub of one of the world's leading online retailers with Audible Signaling Devices for emergency evacuation. Pfannenberg used its practice-based planning system "Pfannenberg 3D Coverage" to design an ideal signaling solution for a space covering more than 100,000 sq ft. with high bay racks and high ceilings.
3D Coverage for Audible Signaling Devices 
It is important to plan the emergency evacuation alarm system for a noisy and hectic environment such as that of a logistics center. Early and professional planning of the signaling devices is particularly important in order to ensure emergency evacuation alarms comply with standards in a cost-efficient manner. Despite high shelves and significant noise levels, the online retailer was able to implement a signaling solution with the help of a system integrator and the use of Pfannenberg's 3D Coverage method to meet all relevant standards and ensure that every worker in this large logistics center is effectively alerted in case of an emergency. In addition, data-based planning ensured proper sizing of the emergency evacuation alarm system: An undersized system involves a high-risk potential while over sizing represents unnecessary costs.
"Current norms state that the sound generated by acoustic signaling devices must exceed the ambient noise level by 10 dB(A) at all times. This often makes it difficult for planners and alarm specialists to determine the number of devices required to provide an alert through large spaces that will comply with standards but at the same time are cost-effective. The information traditionally supplied on technical data sheets by many manufacturers however, don't allow conclusions to be drawn about the actual product performance in a given space. 3D Coverage shows the actual product performance and helps to achieve a safe solution, select the right products and save costs through correct sizing."
Safety through visible signaling area
The 3D Coverage planning method makes it possible to determine and design the signaling range actually covered by acoustic signaling devices in relation to the height, width and length of the space throughout which the signal is to be heard. With 3D Coverage integrated in Pfannenberg's free "Pfannenberg Sizing Software" (PSS), the electrical engineering specialists succeeded in designing the optimal signaling solution. The software not only calculates individual values, but also provides a qualified recommendation for suitable signaling devices and their positioning.
Planning reliability and cost savings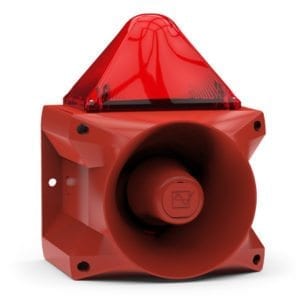 The calculations showed that 96 sounders of the PATROL series were required to alarm the logistics center with an area of more than 100,000 sq ft. at a calculated noise level of 85 dB(A). Furthermore, the calculations showed that PATROL sounders with 120 dB(A), were the perfect solution for this application, being powerful enough for covering the necessary signaling range and allowing for a simple and time-saving installation. This significantly reduced the number of sounders required compared to similar models available on the market.
The 3D Coverage display method used provided reliable protection against incorrect sizing and allows for reliable compliance with industrial norms and regulations, and optimum cost efficiency. Thanks to intelligent planning, the online retailer was able to save material and servicing costs.
For more information please read our TECHNICAL REPORT.
https://www.pfannenbergusa.com/wp-content/uploads/2018/06/Logistic_Center_PA20.jpg
432
648
Marine Vienney
/wp-content/uploads/2015/11/logo_retina1.png
Marine Vienney
2018-06-20 10:02:09
2019-01-14 08:36:09
Pfannenberg Installs Sounders at the Distribution Hub of One of the World's Largest Online Retailers