Pfannenberg's PATROL PA X 20 Series – Highly Effective Alarming for Loud Industrial Environments
In many industrial areas the of use for signaling devices is associated with adverse environmental conditions. In louder and wider surroundings (e.g high ceilings, crane operations…) a strong sounder combined with a flashing light can ensure your personnel safety.
PATROL PA X 20 – Strong 120 dB (A) Alarm Device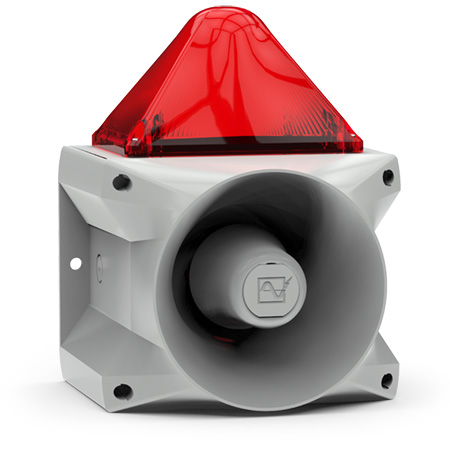 Pfannenberg's PATROL PA X 20 Flashing Sounders offer an enhanced level of signaling by combining strong visual and a 120 dB (A) audible alarms. Such devices are particularly well suited for environments with high ambient noise levels or when the use of hearing protection may hamper a sounder's effectiveness.
These Flashing Sounders are equipped with Electromagnetic sound capsule technology which means that the acoustic signal includes a share of low frequency side bands for excellent sound penetration of walls and doors for highly effective alarming.
When do you need a PA X 20 Flashing Sounder?

Pfannenberg offers Industrial Sounders ranging from 100 to 120 dB (A). Our 120 dB (A) sounders are considered as "Highly Effective Alarming" and have been designed for Industries with loud ambient noise level (I.E. Steel mills, shop factory floor, etc…).
Knowing that every 3dB is a doubling of sound intensity, the difference between a 100 and a 120 dB (A) sounder is huge and need to be taken into consideration when planning an alarm system. 

For a same Ambient Noise Level, a 120 dB Signaling Device will not offer only 20% more coverage than a 100 dB one but a lot wider area.
The following diagram shows the real coverage (the area in which the required sound pressure level is achieved ) of Pfannenberg sounders with a specific ambient noise level:
> 80 dB Sound Pressure Required
> 70 dB Ambiant noise (plus 10 dB offset)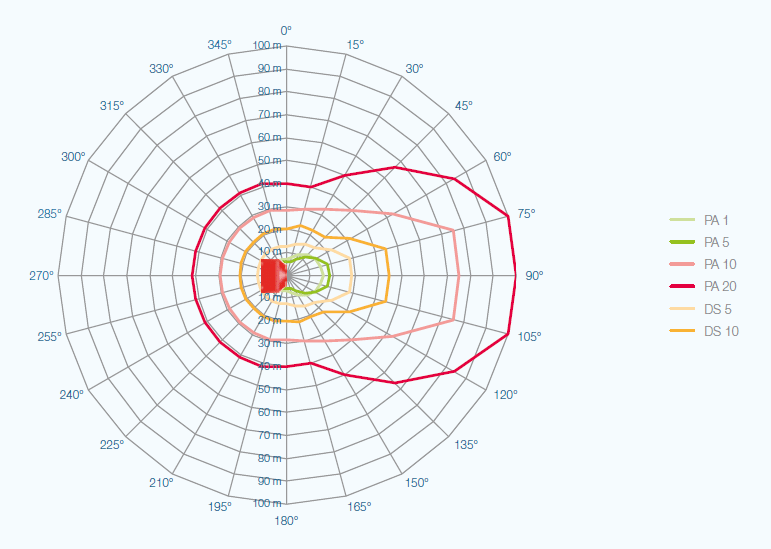 This diagram clearly shows that, for this specific environment, a 120 dB sounder (PA 20) will offer a 10 times better coverage (100 m) than a 100 dB sounder (PA 5 – 10 m).
In this example, the 120 dB(A) sounder performance is immediately apparent and allows to define how much devices are required based on the area to cover.
PA X 20 Flashing Sounder Specifications
Pfannenberg's  Flashing Sounders are designed as integrated flashing sounders, rather than combining a sounder with a bolted-on flashing light. The lens cover is large, highly visible, and available in a variety of colors. The xenon strobe flash tube contains no filament to break and is secured by a steel clamp to further protect it from abuse. Users can choose from a wide selection of acoustic tones which are electronically self-generated – and since there are no moving parts, the device's reliability is enhanced for critical applications. The housing is manufactured from a UV-resistant and flame-retardant polycarbonate/ABS blend and is offered in red or grey to meet application requirements and building decor.
Technical Data:
120 dB (A) at 1 m SPL (nominal) with superior low frequency sound penetration
80 alarm tones with 4 stages, selectable via internal DIP switch
1 Hz single flash xenon strobe, 15 Joules
Internal volume control
IP 66 PC/ABS blend housing
Light is pre-wired to a common terminal strip for ease of installation
10.6″ (270 mm) h x 8.4″ (214 mm) w x 7.1″ (181 mm) d
Coverage area for Required Sound Levels of 80, 85 and 90 dB (A) and clear lens: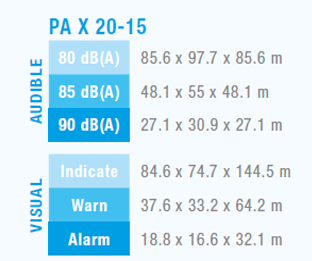 These figures shown are mainly for a quick orientation. For an individual and precise interpretation please use  PFANNENBERG SIZING SOFTWARE (PSS)
---
Pfannenberg is proud to increase Industrial Safety with its robust, field-proven, visual and audible signaling devices for alarm, warning, and indication. Our business philosophy – Protection for man, machine and the environment.
Click here to learn more about our Signaling Solutions!
https://www.pfannenbergusa.com/wp-content/uploads/2018/01/PAX20_450x450_red.jpg
450
450
Marine Vienney
/wp-content/uploads/2015/11/logo_retina1.png
Marine Vienney
2018-04-10 13:39:32
2019-01-14 08:37:50
Pfannenberg's PATROL PA X 20 Series – Highly Effective Alarming for Loud Industrial Environments