PWS Air/Water Heat Exchangers
For the Most Challenging Conditions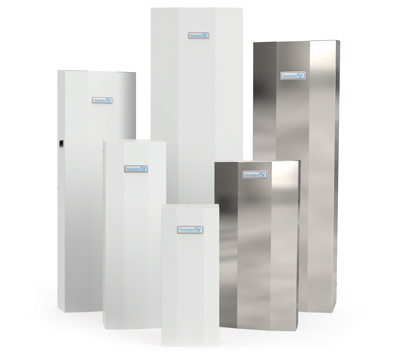 Our thermal management solutions for beverage industry electronics include PWS Air/Water Heat Exchangers which remove a considerable amount of heat while isolating sensitive electronics from a corrosive atmosphere outside of the enclosure.
The sealed cabinet provides contaminant-free component cooling without adding heat to the local environment.  It provides an excellent economic solution where plant water is available or when used in conjunction with a process chiller.  Its sealed design and available stainless steel, NEMA Type 4/4X construction provides a maintenance free solution with no exposed fans or maintenance of filters required.
Single source responsibility for the complete system ensures properly matched components that are engineered to work together – and to provide a custom fit to the most complex beverage processing and packaging equipment.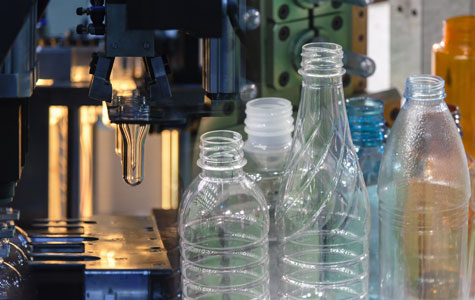 Ideal for beverage manufacturing, bottling & canning operations where:
Ambient conditions are at their worst
Machines are cooled by existing tempered water
Ideal for these areas:
Ingredient Mixers
Product Cooling/Drying
Packaging Automation Equipment
Inspection Machines
Oven Controls
Blow-molding
Lasers
Chillers
For clean to dirty areas with a high air temperature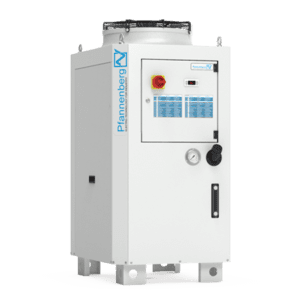 Our thermal management solutions for beverage operations include Chillers, which are used when higher heat loads that exceed traditional cooling methods need to be balanced.
For example, in glass bottle production, the inspection of glass bottles takes place in immediate proximity to this extreme high temperature process. Inspection cameras include a liquid cooled housing that protects the sensitive electronics.
In plastic molding, which involves melting the material to allow it to take the shape of the mold and cooling it before the mold is opened, the use of chilled water allows rapid cooling of the molds between heating cycles in this high speed process.
Optimized components allow for low operating costs and high efficiency.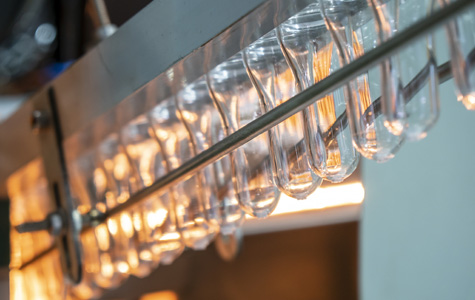 Ideal for beverage manufacturing, bottling & canning operations where:
Higher heat loads that exceed traditional cooling methods need to be balanced
Ideal for these areas:
Mold Cooling
Injection
Thermoforming
Blow Molding
Glass Inspection Camera Cooling
DTS Cooling Units
For Harsh Environments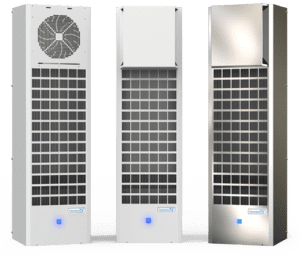 In harsh environments involving high temperatures, wash-down requirements, heavy particles or the presence of chemicals capable of damaging components (NEMA 4 or 12 environments), DTS Cooling Units are the perfect solution to seal out the ambient air, cool and re-circulate clean, cool air throughout the enclosure.
Offered in NEMA Type 4/4X 304 stainless steel, the DTS Cooling Unit utilizes an internal heater which eliminates the need for a drain line, and is coated with special polish to repel contaminants, and provide for the highest amount of protection against environmental conditions such as alkalis and acids with epoxy-coated copper piping.
High temperature models can operate in ambient temperatures up to 140° F (60° C), C), ideal for applications near industrial ovens.
Examples of usage include dairy systems, which have a high concentration of milk power dust and require a completely sealed control system.  Pfannenberg units were determined to be the best solution with the "filterless" design that prevents clogging and choking VFD performance. And, one of the largest wineries in the world moved to our DTS Cooling Units, due to the built-in condensation heaters, which prevented costly production lines shutdowns at all facilities.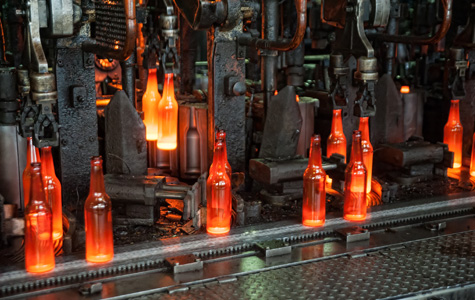 Ideal for beverage manufacturing, bottling & canning operations where:
High temperatures up to 140° F (60° C)
Type 4X Wash down requirements
Component-damaging chemicals
VFD control panel enclosures
Ideal for these areas:
Industrial Ovens, Cookers and Dryers
Can leak inspection
Vision systems for motor control cabinets
Dairy control system
Packaging lines
Click here to learn more:
Click here to learn more: DTS Cooling Units
Filterfans®
Low energy usage and ease of installation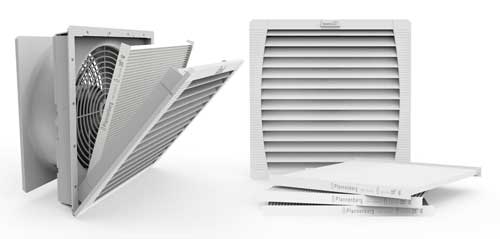 Rated IP55 (Ingress Protection Rating), our patented Filterfans® incorporate modern louvers which enable maximal airflow, hold back dust and water particles, protect the filter medium from damage and can be integrated into the design of the application. Rainhoods provide additional protection under extreme conditions such as high-pressure cleaning.
Filterfans® are an ideal cooling solution in areas of beverage processing and packaging plants where the ambient air is always lower than the temperature required in the electrical enclosure, as they assist the natural convection of the air and help to avoid hot spots within the enclosure.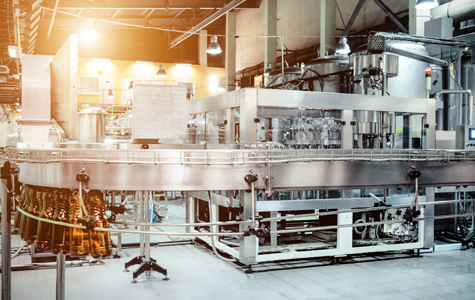 Ideal for beverage manufacturing, bottling & canning operations where:
When ambient temperature is lower than the desired temperature within the enclosure
When the environment is free of corrosive airborne particulates and gases
For washdown areas (with the use of a Rainhood)
Ideal for these areas:
Filling
Packaging
Brewing
Heaters, Thermostats, Hygrostats
For alarming, fan and heater control, primarily in humid areas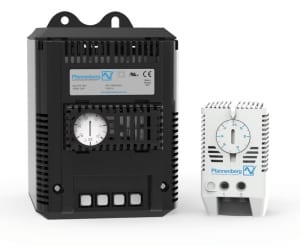 Hygrostats switch on electrical enclosure heaters or Filterfans® when a preset relative humidity is exceeded. The relative humidity is kept above the dew point and the condensation of water on electrical components and the corrosion of unprotected sheet metal is prevented, which is extremely important in canning where metal particles have been known to make their way into food production.
Heaters are available for cabinets in cold storage areas as well as for condensate management.
When combining a Pfannenberg Thermostat with a Filterfan®, the fan can be controlled to turn on and off based on the temperature inside the cabinet.
As a system; Filterfans, Heaters, Thermostats and Hygrostats will ensure that the environment within the enclosure is ideal for the performance and service life of the critical electronics.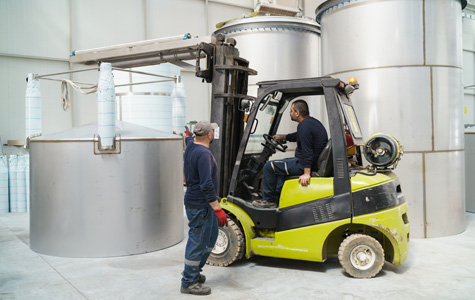 Ideal for beverage manufacturing, bottling & canning operations where:
High humidity (Hygrostats)
Need to maintain minimum temperature so condensation cannot release from the air
Need to avoid dewpoint
Where it is needed to save life of Filterfan (Thermostat)
Ideal for these areas:
Oven/Washers  (Hygrostats)
Chilling/Storage Area (Thermostats)
Packaging/Shipping Areas (Thermostats)
Stack Lights, Signaling and Alarms
For Areas where Employee Safety is Critical
It is imperative that signaling technologies such as horns and alarms are installed to ensure that workers have both visual and audible indication of problems or alerts.  Ammonia, chlorine and carbon dioxide are all very real threats in beverage plants; likewise, gas or liquid petroleum (LP) fork-lifts generate carbon monoxide as a by-product of combustion, and are a danger.
To provide a safe environment in all areas of your plant, we offer an award-winning range of solutions to ensure adequate signaling and alarm coverage, avoid signaling confusion, and ensure gas detection. And where hazardous vapors can occur, such as with processing aids, or unwanted gases that are unavoidably produced during the production of a drink, or additives, explosion-proof versions are available.
Our recommendations for indication, warning, and alarms, include the PYRA PY X and the PA X 1-05, PA1. For high traffic areas, our BR50 stack light provides brighter than bright LEDs with red, green, and yellow strobes for heavy traffic areas. In plants where chlorine is used to disinfect water, we offer the PA X 10-10, which provides instant gas detection.
OEM suppliers will find that offering signaling products with their equipment will improve end user customer satisfaction. For instance, our PATROL PA 1/BR 50 stack lights can be customized and quickly assembled into many configurations.
With robust flashing sounders offering more than eighty tones, our signaling solutions provide widespread coverage through each alarm, significantly reducing the number of signaling devices needed, resulting in an application that not only ensures industrial safety, but is economical as well.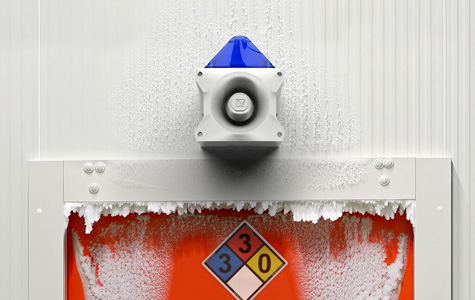 Ideal for beverage manufacturing, bottling & canning operations where:
Machine alarming, indications, or warning required
 Gases present risks of toxicity, flammability and asphyxiation
Ideal for these areas:
Disinfection
Palletizing
De-palletizing
Milk storage areas