PWS Air To Water Heat Exchangers
For the Most Challenging Conditions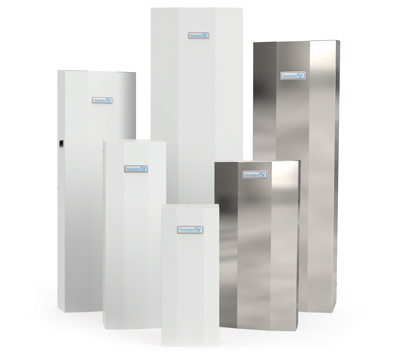 PWS Air To Water Heat Exchangers are particularly suited to areas of the bakery where ambient temperatures are high with high amounts of particulate, such as flour,  in the air.
Flour is one of the single greatest enemies of enclosure air conditioners in the makeup area of a commercial bakery. The build-up of flour in the air conditioner leads to reduced performance and eventual failure. Without this cooling there is added stress and risk of failure for your VFDs and enclosure electronics. The sealed cabinet provides contaminant-free component cooling without adding heat to the local environment.
In addition, poorly insulated ovens can warm the air around the ingredients and mixing area goods, and if dough gets too warm it will become soft and sticky, leading to quality problems as well as increased waste from contact with surfaces during the subsequent processing stages. Solutions are to cool the dough by using ice or a glycol cooling jacket, or to minimize this effect by controlling the air temperature around the mixer's electronics, such as with an PWS Air To Water Heat Exchanger.
Paired with EB Packaged Chillers, the PWS Air To Water Heat Exchangers provides a total cooling solution that manages process and/or control enclosure heat gain and effectively removes it from the processing area. Single source responsibility for the complete system ensures properly matched components that are engineered to work together – and to provide a custom fit to the most complex food processing equipment.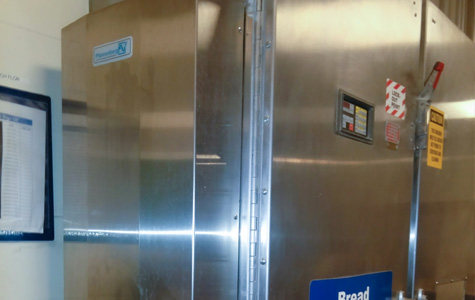 Ideal for bakery automation where:
Ambient conditions are at their worst
Washdown area
Machines or production processes are cooled by existing tempered water
Ideal for these areas:
Mixing and Make Up
Proofing
Baking
PKS Air To Air Heat Exchangers
For the Harshest Environments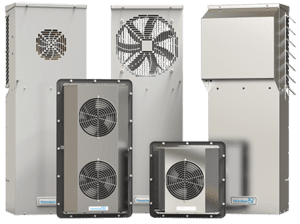 Pfannenberg's PKS 3000 Series Air to Air Heat Exchangers use a revolutionary next generation cooling technology that out-performs conventional heat exchangers and/or heat pipe solutions. One of the best technologies to use when there is a temperature difference between the internal target temperature and the surrounding temperature (∆T≥10°C) is air to air technology.  An air to air heat exchanger removes heat from inside of the enclosure to the cooler environment using the least amount of energy while still providing a closed loop ingress protection.
With five models to choose from, our closed loop PKS Air To Air Heat Exchangers will protect all electronics that don't require a remote cooling source, and take advantage of our next generation Kinetic Cooling System™ to exchange and remove heat from an electrical enclosures.
Industrial automation is used in almost every area of a commercial bakery, and most electronics utilize a high number of VFDs (variable frequency drives), an extremely expensive and critical piece of machinery.  Technology advancements in VFD drives, which are rated to a min. of 103°F; allow the required ∆T needed for a PKS Air To Air Heat Exchanger to be effective.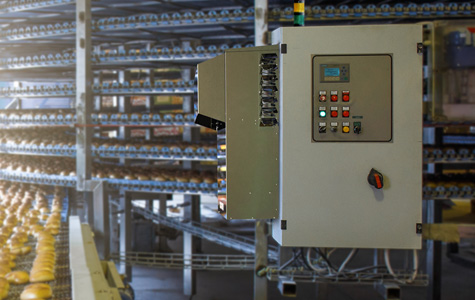 Ideal for bakery automation where:
Temperature controlled environment
Wash down requirement
Protection against corrosion and contamination
Energy conscious
Processing, assembling and packaging equipment
Avoiding downtime is critical
Ideal for these areas:
Shipping/Receiving
Packaging
Chilling
DTS Cooling Units
For Harsh Environments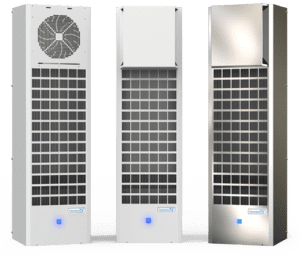 In harsh environments involving high temperatures, wash-down requirements, heavy particles or the presence of chemicals capable of damaging components (NEMA 4 or 12 environments), DTS Cooling Units are the perfect solution to seal out the ambient air, cool and re-circulate clean, cool air throughout the enclosure.
Offered in NEMA Type 4/4X 304 stainless steel, the DTS Cooling Unit utilizes an internal heater which eliminates the need for a drain line, and is coated with special polish to repel contaminants in food applications.
High Temperature models can operate in ambient temperatures up to 140° F (60° C), ideal near baking lines.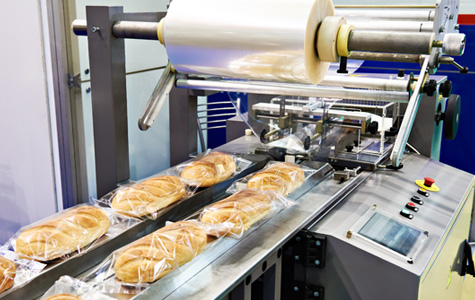 Ideal for bakery automation where:
High temperatures up to 140° F (60° C)
Wash down requirements
Component-damaging chemicals
Ideal for these areas:
Proofing Area
Baking Area
Shipping/Receiving and Packaging
Heaters, Thermostats, Hygrostats
For alarming, fan and heater control, primarily in humid areas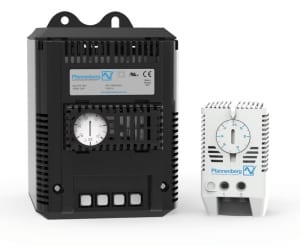 Hygrostats switch on electrical enclosure heaters or Filterfans® when a preset relative humidity is exceeded. The relative humidity is kept above the dew point and the condensation of water on electrical components and the corrosion of unprotected sheet metal is prevented, which is extremely important in commercial bakeries where metal particles have been known to make their way into food production.
Heaters are available for cabinets in cold storage areas as well as for condensate management.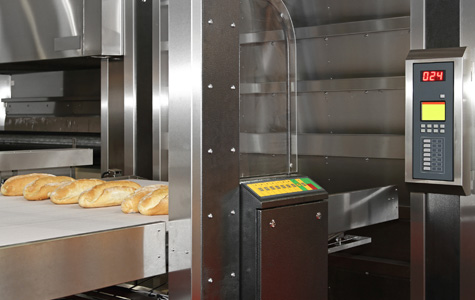 Ideal for bakery automation where:
High humidity (Hygrostats)
Need to maintain minimum temp. so condensation cannot release from the air
Need to avoid dewpoint
Where it is needed to save life of Filterfan (Thermostat)
Ideal for these areas:
Baking area with ovens (Hygrostats)
Chilling/Storage Area (Thermostats)
Packaging/Shipping Areas (Thermostats)
Audible and Visual Signaling Technology
For Areas Where Automation and Electronics Are at a Premium
Our award-winning signaling alarms are designed to safely and securely protect your personnel and equipment. Our latest BR50 stack light provides brighter than bright LEDs for red, green, and yellow strobes. Check out the PA X 1-05 – Patrol for machine indication, warning or alarming.
In commercial bakeries where ammonia is used to chill and refrigerate products, leaks are pretty uncommon, but when one does occur – the results could be lethal.  As most of these leaks occur in the mechanical room containing the refrigeration compressors of the facility, we offer the PA X 10-10, which provides instant ammonia gas detection.
When bakeries use the same signaling for different issues, can be confusing for workers. In other plants, there is a clear lack of signaling and alarms, leading to potential safety issues. Generally, commercial bakeries will utilize a blue light/strobe as a warning color for toxic gas leaks, such as ammonia, and red for combustible gas leaks – but users can use any color unless directed by a local code or law. We recommend using our signaling technology for indication, warning, and alarms to avoid any signaling confusion.
With robust flashing sounders offering more than eighty tones, our signaling solutions provide widespread coverage through each alarm, significantly reducing the number of signaling devices needed, resulting in an application that not only ensures industrial safety, but is economical as well.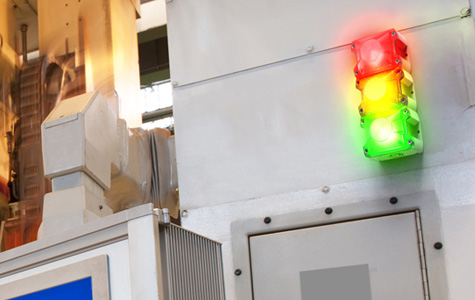 Ideal for bakery automation where:
Conveyor belts, forklifts and fork trucks are used
Machine alarming, indications, or warning required
Problem detection and alerts required
Ammonia Gas Leaks/Prevention and Detection required
Ideal for these areas:
Shipping/Packaging
Chilling/Cooling/Refrigeration
Filterfans® & Sanitary Rainhoods
The market-leading solution for extreme environments such as washdown and shipping areas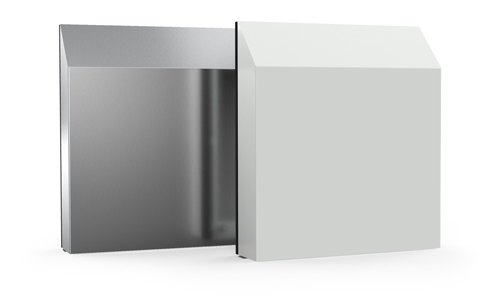 Our patented Filterfans® incorporate modern louvers which enable maximal airflow, hold back dust/flour and water particles, protect the filter medium from damage and can be integrated into the design of the application.
Filterfans® are an ideal cooling solution in areas of commercial bakeries, such as shipping, where the ambient air is always lower than the temperature required in the electrical enclosure, as they assist the natural convection of the air and help to avoid hot spots within the enclosure.
Though our Filterfan® has been designed for significant weather-related hazards, some environments are simply too extreme for filter fan designs on their own, such as bakery applications, where high pressure washdowns are necessary. In these cases, the addition of a Sanitary Rainhood provides the protection necessary to ensure uninterrupted filter fan and electrical component operation.
The Rainhood's metal shell provides solid protection against breaking, and provides another barrier against the entrance of water in washdown procedures.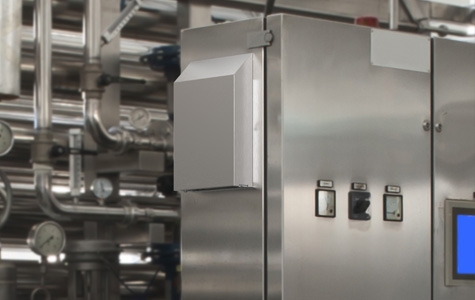 Ideal for bakery automation where:
Environmental conditions are extreme
Ideal for these areas: