Time is money! Pfannenberg's Signaling Devices Installation is 75% Faster Than The Competition
We will never say it enough, Pfannenberg's "Plug & Play" mounting system makes our PATROL and PYRA Signaling Devices the easiest and quickest to install in the market! Installation can be done in less than a minute thanks to a captive fastener plus electrical wiring that avoids the need for a 3-hand assembly.
Below are two very popular 100dB sounders, which are used very commonly on machines and in plants. Pfannenberg's PA 1 can be installed in less than a quarter of the time as our competitors. Time = Money and Large scale installations make Pfannenberg the best choice!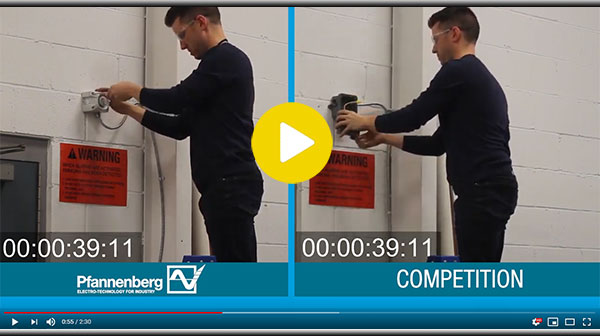 Installing a PATROL® Sounder takes 45 seconds
Quick installation is guaranteed for the rugged PATROL® Series Signaling Devices, ideal for safety and process alarming applications on cranes, in mines, mills, and factories, and for other heavy industry. Plug and socket connections and safe wiring also protect installers from electrical hazards. Once set up, facilities can rely on these units to operate reliably in harsh environments for years, with IP66 ingress protection, IK08 impact rating, and an industry-leading 10-Year Warranty backing every unit.
PATROL® Sounders and Flashing Sounders offer 80 alarm tones with 4 stages, so one device can signal a number of conditions. These Signaling Devices can be integrated with ease into a variety of safety systems, including fixed gas detection. Alerting personnel of an evacuation when hazardous gas is present, these signaling products offer workplace safety in energy generation, wastewater treatment, food and beverage manufacturing, refrigeration, gas production….
For more information on PATROL® signaling devices watch the new video or visit www.pfannenbergusa.com/signaling-technologies.
For expert guidance on selecting the right signaling equipment for your facility, use our 3D Coverage Calculator.
'PLUG & PLAY' MOUNTING SYSTEM:
Saves time and reduces costs. Potential errors are eliminated and incorrect assembly is not possible.
Installation time is just one of the great features which makes Pfannenberg Incorporated the premier signaling company in the market!
https://www.pfannenbergusa.com/wp-content/uploads/2019/04/Video_Player.jpg
336
600
Marine Vienney
/wp-content/uploads/2015/11/logo_retina1.png
Marine Vienney
2019-05-29 13:48:24
2019-05-29 13:48:24
Time is money! Pfannenberg's Signaling Devices Installation is 75% Faster Than The Competition