Audible and Visual Signaling Technology Mitigates Risks in Outdoor Crane Applications
Safety equipment, and particularly signals, are an integral part of outdoor overhead crane operations. In outdoor applications, where wind and weathering pose significant risks over time, these signals are particularly important and must be both flexible and reliable in the long term. Audible and visual signaling technology, such as the combined PYRA L-S and PA1 signals from Pfannenberg, can alert operators and others in the vicinity of cranes to dangerous or concerning conditions.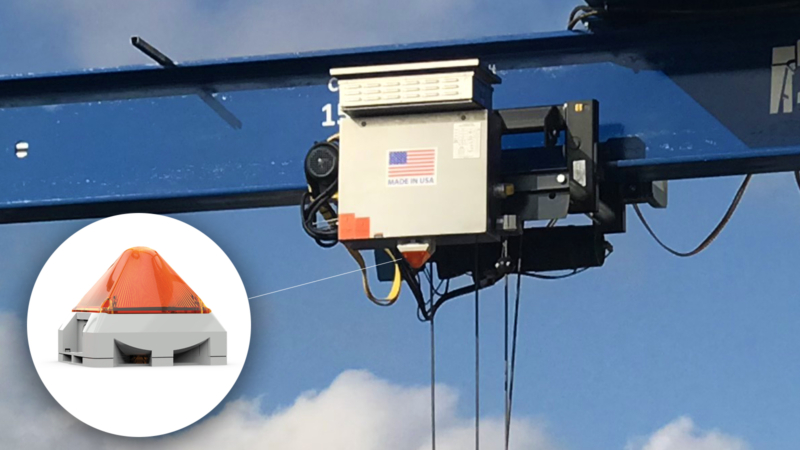 Outdoor Cranes Safety Risks
Required in applications such as building, installing large-scale HVAC equipment, shipping, transportation, and more, outdoor cranes pose significant safety risks to workers onsite and passersby.
As a result, OSHA regulations regarding crane safety are strict, and some municipalities, like New York City, have implemented further safety restrictions to prevent outdoor overhead crane accidents. There are three main categories of risk associated with outdoor overhead cranes: wind, movement, and load.
Using Industrial Signals to Mitigate Risks
Signaling technology can be used to mitigate risk from all three of these categories. For example, signals rigged to a wind anemometer could alarm when wind speeds exceed safe operating conditions. Those wired to a thermostat in the electronic controls could signal overheating and avoid hoist brake failure. Alarms can also notify operators of exceeding maximum load capacity, electronics failures, or other dangerous conditions. On the other hand, a steady-on green light could signal that a crane is safe and ready for operation.
Pfannenberg, a global leader in signaling technology, has developed a combined audible-visual signaler that meets all these needs and more. By combining an LED visual signal with the capacity to stay on steadily, blink, or flash in multiple different colors with a loud audible signal, the Pfannenberg PYRA L-S and PA1 signaling combination gives crane manufacturers the ability to make all of these different safety features accessible to crane operators and nearby workers.

For more information about Pfannenberg's one-size-fits-all outdoor crane safety solution, check out our Crane PDF or contact our Signaling Specialists today!
https://www.pfannenbergusa.com/wp-content/uploads/2021/01/1-18-e1610119805994.jpg
450
800
Marine Vienney
/wp-content/uploads/2015/11/logo_retina1.png
Marine Vienney
2020-12-29 11:06:27
2021-01-08 11:13:46
Audible and Visual Signaling Technology Mitigates Risks in Outdoor Crane Applications