Pfannenberg Announces PMF LED-Hi Multifunction Light
Ultra bright LED technology ideal for indoor and outdoor use in industrial applications
Lancaster, NY – Pfannenberg, Inc., a leading global manufacturer of Thermal Management and Signaling Technologies, announces the PMF LED-Hi LED multifunction light, ideal for both indoor and outdoor use in industrial environments, including automotive, plant construction and logistics, open-cast mining, heavy industry, and maritime applications. Equipped with three signal options, eight different operating modes, and a wide signaling area of up to 1350 feet, the PMF LED-Hi offers day/night reduction, individually switchable sectors and inrush current limitation. It is highly insensitive to vibration and has a service life exceeding 50,000 operating hours.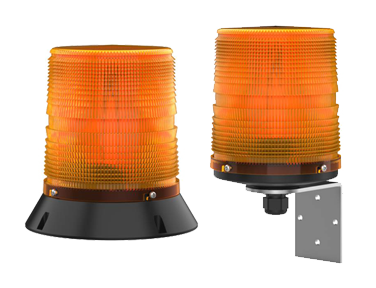 The versatile PMF LED-Hi offers three 3 different signaling modes, including:
A blinking light that is highly efficient for permanent warning;
A flashing light, which is brighter than comparable xenon flashing light;
A rotating beacon effect, without mechanical rotating mirrors.
The availability of eight operating modes means users can switch off individual sectors to align signaling precisely and avoid unwanted reflections or glare.
The multifunction light is available in all common signal colors and can be adapted to specific applications. When the lens is clear, the light offers 315 candela (cd) flash brightness for large areas and outdoors. The signal lamp can withstand temperatures from -40 to +55 °C and is resistant to shock and vibrations, making it a good choice for harsh environments.
Despite its long operating time and large operating voltage and signaling area, the PMF LED-Hi features low current consumption. With a nominal voltage of 24VDC and a wide-range power supply, higher supply voltages can be compensated. The standard inrush current suppression ensures further energy savings.
The LED-Hi is available in three versions for use in safety-relevant applications (SIL / PL) or for ambient temperatures up to 70 °C.
---
Any question? Please click here to contact our Signaling Product Manager for additional information.
---

https://www.pfannenbergusa.com/wp-content/uploads/2019/09/PMF_models-red-300x230.png
230
300
Marine Vienney
/wp-content/uploads/2015/11/logo_retina1.png
Marine Vienney
2019-10-07 10:21:07
2019-10-07 10:21:07
Pfannenberg Announces PMF LED-Hi Multifunction Light