Product Categories
PY L-M-RGB
PYRA® Color Changing LED
Our PY L-M-RGB (UL Type 4x, IP 66) offers the most flexible, ultra bright color changing LED technology with selectable signaling modes (continuous, blinking, flashing) and selectable colors (4 total).  This Signaling Device offers a 180° x 360° visible field and operates in any climate. It can be top or wall mounted. This product can be used as a replacement to stack tower lights, easy to install. Color: Available in Grey Housing. 10-Year Warranty
Product Overview
Multiple Colors with one LED Light
Multiple Signaling Modes: Continuous, Blinking and Flashing
Adjustable Brightness
Wide Temperature Range: -40°F to 131°F
Flame-Retardant Plastic Housing
Audible Sounder Option
UL Certification
4 Pin M-12 Optional Connector Available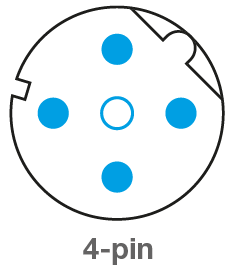 Additional voltages, lens and base colors available. Please click here to contact us for additional options.
Features
Multifunctional Signaling modes
No matter which signaling mode is required – you are able to choose the one that fits to your needs: Continuous (permanent warning or indication), Blinking (highly efficient for permanent warning), Flashing (higher perceptibility in alarm conditions)
Selectable Color (RGB Version Only)
The updated PYRA LED series can now show three out of four available colors – red, yellow, green, and blue.
Multi-Voltage-Power Supply
Made to connect with different voltages.  
M12 Connection
A true plug and play visual signaling device. Plug your light into a 4 pin-M12 connector and you will get Green(Steady-On), Yellow(Blinking, and Red(Flashing).
Panel Mount Installation
Integrates into the design of your machine and equipment. The pyramid shaped lens providing 360° visibility that ensures all-round visibility.
Single 1-Color LED
Available upon request. Please contact your sales representative for details.  
IP 66 Enclosure Rating
Suitable for use in all weather conditions due to the provided protection against driving rain, snow, ice, and dust. Withstands hose-directed spray during wash-down requirements.
Technical Data Overview
PYRA SERIES COLOR CHANGING LED PY L-S
10 to 60 VDC
95 to 265 VAC
PART NUMBER GREY HOUSING RGB (RAL 7035)
21553818055
21553648055
PART NUMBER GREY HOUSING RGB with M12 CONNECTION
21553818101
N/A
LIGHT ALTERATION FREQUENCY
Blinking light: 1 Hz / 2 Hz, Flashing light: 0.1 Hz / 0.5 Hz / 0.75 Hz / 1 Hz / 2 Hz
LIGHT INTENSITY (DIN 5037) with a clear lens
76 cd (reducible)
MAX VIEWING DISTANCE
202 m
OPERATING TEMPERATURE
-40 ... +55 °C
PROTECTION SYSTEM (According to EN 60529)
IP 66
SERVICE LIFE OF LIGHT SOURCE
> 50,000 hours
W x H x D (mm)
166 x 124 x 114
Subject to technical amendments and misprints.