PWS Air/Water Heat Exchangers
For the Most Challenging Conditions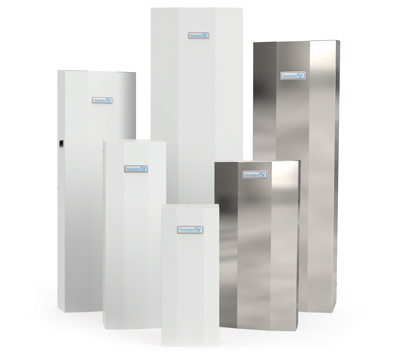 Our thermal management solutions for meat, poultry, and seafood plant's enclosure electronics include PWS Air/Water Heat Exchangers which remove a considerable amount of heat while isolating sensitive electronics from a corrosive atmosphere outside of the enclosure.
PWS Air/Water Heat exchangers are widely deployed to protect variable frequency drives located in pump control panels, which are some of the most important pieces of equipment in food processing and employed for various processing applications.
Paired with CCE Chillers, which offer a small footprint, PWS Air/Water Heat Exchangers provides a total cooling solution that manages process and/or control enclosure heat gain and effectively removes it from the processing area. Chillers are an ideal solution for the temperature regulation throughout HPP cold pasteurization process where products are placed under cold water pressures that have to be maintained throughout to prevent from the product going bad.
Single source responsibility for the complete system ensures properly matched components that are engineered to work together – and to provide a custom fit to the most complex meat, poultry, and seafood plant's processing equipment.
DTS Cooling Units
For Harsh Environments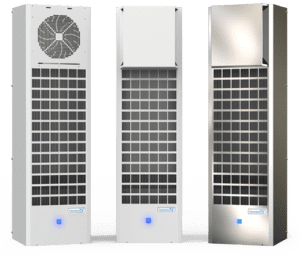 In harsh environments involving high temperatures, wash-down requirements, heavy particles or the presence of chemicals capable of damaging components (NEMA 4 or 12 environments), DTS Cooling Units are the perfect solution to seal out the ambient air, cool and re-circulate clean, cool air throughout the enclosure.
Offered in NEMA Type 4/4X 304 stainless steel, the DTS Cooling Unit utilizes an internal heater which eliminates the need for a drain line, and is coated with special polish to repel contaminants.
High Temperature models can operate in ambient temperatures up to 140° F (60° C). 
Pfannenberg DTS Cooling Units closed loop design isolates the external ambient air from the internally conditioned air eliminating the risk of contaminants entering the cabinet. The hermetically sealed compressor guarantees 100% cooling capacity efficiency. The absence of any refrigerant fill valves eliminates leak paths.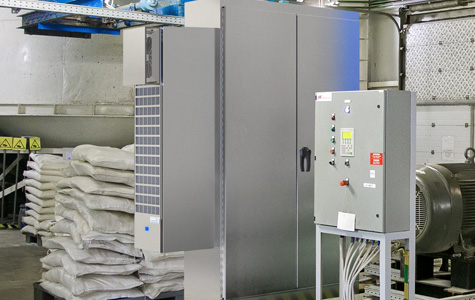 Ideal for meat, poultry and seafood where:
High temperatures up to 140° F (60° C)
Wash down requirements
Component-damaging chemicals
Ideal for these areas:
Packaging
Laser Labeling
Palletizing
Disinfection
Odor Control
PKS Air/Air Heat Exchangers
For Cool, Dirty Environments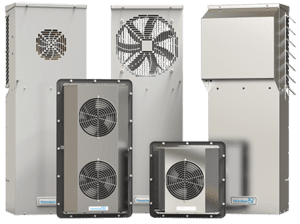 One of the best technologies to use when there is a temperature difference between the internal target temperature and the surrounding temperature (∆T≥10°C) is air to air technology. 
An air/air heat exchanger removes heat from inside of the enclosure to the cooler environment using the least amount of energy while still providing a closed loop ingress protection.
With five models to choose from, our closed loop PKS Air/Air Heat Exchangers will protect all electronics that don't require a remote cooling source, and take advantage of our next generation Kinetic Cooling System™ to exchange and remove heat from an electrical enclosures.
Industrial automation is used in almost every area of a food processing plant, and most electronics utilize a high number of VFDs (variable frequency drives), an extremely expensive and critical piece of machinery. 
Technology advancements in VFD drives, which are rated to a min. of 103°F; allow the required ∆T needed for a PKS Air/Air Heat Exchanger to be effective.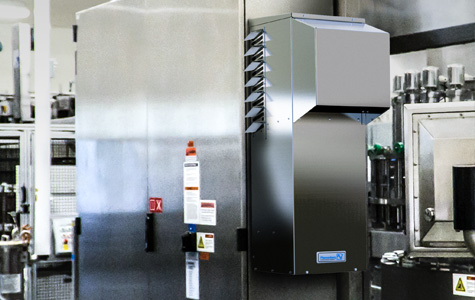 Ideal for meat, poultry and seafood where:
Temperature controlled environment
Need to reduce heat condensation
Wash down requirement (usually daily with caustic chemicals)
Protection against corrosion and contamination
Energy conscious
Ideal for these areas:
Cold room (55°F) with ammonia gas detection
Pressure washers
Pump panels
Cutting machines
X-Ray machines
Stack Lights, Signaling and Alarms
For Areas where Employee and Public Safety is Critical
In many plants, there is a clear lack of signaling and alarms leading to potential safety issues. In others, signaling confusion occurs when plants use the same signaling for different issues.
To provide a safe environment in all areas of your plant, we offer an award-winning range of solutions to ensure adequate signaling and alarm coverage, avoid signaling confusion, and ensure gas detection. And where hazardous vapors can occur, explosion-proof versions are available.
Our recommendations for indication, warning, and alarms, include the PYRA PY X and the PA X 1-05, PA1. For high traffic areas, our BR50 stack light provides brighter than bright LEDs with red, green, and yellow strobes for heavy traffic areas. In plants where chlorine is used to disinfect water, we offer the PA X 10-10, which provides instant gas detection.
With robust flashing sounders offering more than eighty tones, our signaling solutions provide widespread coverage through each alarm, significantly reducing the number of signaling devices needed, resulting in an application that not only ensures industrial safety, but is economical as well.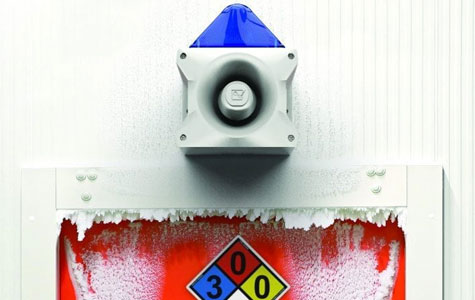 Ideal for for meat, poultry and seafood where:
Machine alarming, indications, or warning required
Ammonia, chlorine, carbon dioxide, odor-reducing chemical Leaks/Prevention and Detection required
Ruggedized, robustness required due to humidity
Conveyors and fork lifts used
Ideal for these areas:
Preparation
Distribution
Coolers, freezers, flash freezers, cold rooms
Pump panels
Filterfan® with Rainhood
The market-leading solution for heavy spray environments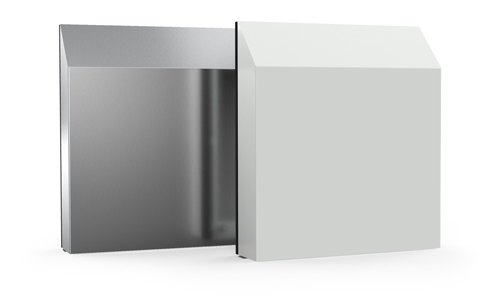 Our patented Filterfans® are an ideal cooling solution in areas of meat, poultry, and seafood plants where the ambient air is always lower than the temperature required in the electrical enclosure, as they assist the natural convection of the air and help to avoid hot spots. The optional Rainhood's metal shell provides additional protection from the environment, especially areas exposed to heavy spray.
The rainhood's metal shell provides solid protection against breaking, hides the filter fan from vandalism, provides another barrier against the entrance of water in washdown procedures.
Pfannenberg's Filterfan® + Rainhood combination is the market-leading solution for use in extreme environments.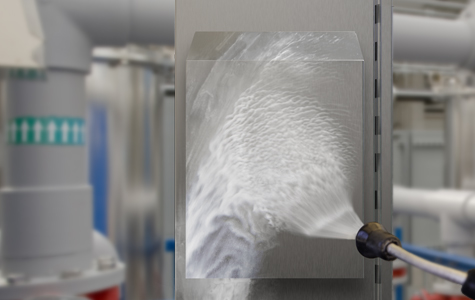 Ideal for meat, poultry and seafood where:
The air temperature does not exceed 95°F
Areas exposed to outdoors or heavy spray
Ideal for these areas: