Pfannenberg Top-Mounted Cooling Units meet the need of OEM Milling Component Manufacturer
Customer Requirement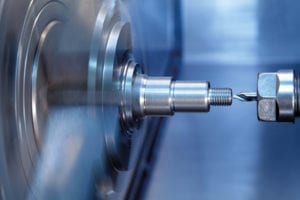 An OEM Milling component manufacturer which develops processing centers for the precision boring and milling high-precision components needed critical thermal management for their machine's control electronics. The systems are designed using relatively tall electrical enclosures to minimize that installation space. This compact design fosters the development of heat pockets.
The customer needed a space-saving thermal management solution to keep the manufacturing footprint compact. To minimize the formation of heat pockets, the solution needed to promote very efficient air circulation. Another requirement was absolute protection against condensate and assurance of top-level machine availability – even under difficult environmental conditions.  Thermal management with compact cooling units proved to be unreliable so far because of the problems with condensate.
The Pfannenberg Solution
Our revolutionary DTT series top-mounted cooling units met the requirement for maximum reliability, space savings design and 100% protection against condensate.
The DTT top-mounted cooling units provide unique, four-fold condensate protection:
Zero sweat guarantee
No overflow of condensate into the electrical enclosure
Managed water droplet control
No air hoses, which are otherwise at risk of condensation
Further benefits:
High-volume air delivery via the integrated nozzles to accelerate cold air movement right down to the bottom of the cabinet
Filter media for any area (contaminated ambient air)
Controller with energy-saving mode to maximize energy-efficiency (optional feature)
Customer Benefits
Switching to the DTT series top-mounted cooling units successfully allowed the OEM to provide a competitive design to their customers. The units are compatible with all makes of electrical enclosures and are available in 3 sizes and 6 performance levels. Because of its cUR approval and versions with 230V and 400V voltages, the milling processing centers can be used worldwide.
---
Have a question regarding which equipment is best for your application? Contact our engineering team for more information!
---
Pfannenberg, Inc. is a global manufacturer of Thermal Management, Liquid Cooling Solutions and Signaling Technologies.
Pfannenberg is proud to provide solutions as a single source to its customers. Our business philosophy – Protection for man, machine and the environment.
Topics: Cooling Units, Thermal Management
https://www.pfannenbergusa.com/wp-content/uploads/2017/11/Milling_Industry.jpg
400
600
Marine Vienney
/wp-content/uploads/2015/11/logo_retina1.png
Marine Vienney
2017-03-16 13:22:58
2019-01-14 11:38:10
Pfannenberg Top-Mounted Cooling Units meet the need of OEM Milling Component Manufacturer